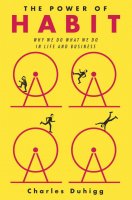 The Power of Habit: Why We Do What We Do in Life and Business by Charles Duhigg (Random House, 2012)
After reading this book, I have the uneasy feeling that it is sometimes oversimplified and doesn't tell the whole story. It is, however, heavily documented—when I read the last sentence of the text my Kindle told me I was merely 75% through the book—and anyone who wants to take the trouble to dig further can do so. More importantly, anyone who wants to test out Duhigg's theories of the power of our habits can easily experiment in the laboratory of his own life.
There's a lot in The Power of Habit that will be familiar to the circle of my readers who are working hard on personal change and challenge. We already know the importance of habit and routines, of baby steps and small wins. But Duhigg's numerous examples and summaries of scientific research are valuable and inspiring.
Our habits aren't just part of our lives—they are what make the rest of our lives possible. Habits are the infrastructure that takes care of the basics and frees our brains for higher work. As habits become part of our brain's structure, they make the difference between sounding out c-a-t and enjoying a novel, between learning to drive and toolin' down the highway.
So habits are good. Well, good habits are good. But the brain doesn't distinguish between good and bad habits. (I'm not sure that's true. Why else would a good habit take weeks to establish but a bad habit seems to stick after a few days?)
Good or bad, habit formation has a basic structure:
This process within our brains is a three-step loop. First, there is a cue, a trigger that tells your brain to go into automatic mode and which habit to use. Then there is the routine, which can be physical or mental or emotional. Finally, there is a reward, which helps your brain figure out if this particular loop is worth remembering for the future.... Over time, this loop—cue, routine, reward; cue, routine, reward—becomes more and more automatic. The cue and reward become intertwined until a powerful sense of anticipation and craving emerges. Eventually ... a habit is born.
And it never really goes away. It's always there, in the brain. That's good, because it means that after falling out of a good routine we can get back in less time than it took to establish it. But it also means that the bad habits we thought we had conquered are lurking there, ready to ensnare us again if we aren't wary.
Habits aren't destiny. ... [H]abits can be ignored, changed, or replaced. But the reason the discovery of the habit loop is so important is that it reveals a basic truth: When a habit emerges, the brain stops fully participating in decision making. It stops working so hard, or diverts focus to other tasks. So unless you deliberately fight a habit—unless you find new routines—the pattern will unfold automatically.
The Golden Rule of Habit Change: You Can't Extinguish a Bad Habit, You Can Only Change It.
How is this accomplished? By following the cue, which triggers the bad habit, with a different routine, but the same reward. It's a little more complicated than that, or the book would be a lot shorter. One important factor is identifying what is truly rewarding the action. Do I eat a doughnut every morning because I'm hungry, or because I crave sugar, or because it provides an excuse for socializing with my coworkers? Only when you know what the reward provides can you determine an appropriate good routine to replace the one you want to eliminate.
[H]abits are so powerful [because] they create neurological cravings.
[C]ountless studies have shown that a cue and a reward, on their own, aren't enough for a new habit to last. Only when your brain starts expecting the reward—craving the endorphins or sense of accomplishment—will it become automatic to lace up your jogging shoes each morning. The cue, in addition to triggering a routine, must also trigger a craving for the reward to come.
More good news lies in the concept of keystone habits. It turns out that very often changing one habit, conquering one problem leads in a domino effect to victories in other areas.
The habits that matter most are the ones that, when they start to shift, dislodge and remake other patterns.
Keystone habits offer what is known within academic literature as "small wins." They help other habits to flourish by creating new structures, and they establish cultures where change becomes contagious. ... A huge body of research has shown that small wins have enormous power, an influence disproportionate to the accomplishments of the victories themselves.
Keystone habits say that success doesn't depend on getting every single thing right, but instead relies on identifying a few key priorities and fashioning them into powerful levers.
Once people learned how to believe in something, that skill started spilling over to other parts of their lives, until they started believing they could change. Belief was the ingredient that made a reworked habit loop into a permanent behavior.
Making your bed every morning is correlated with better productivity, a greater sense of well-being, and stronger skills at sticking with a budget. It's not that a family meal or a tidy bed causes better grades or less frivolous spending. But somehow those initial shifts start chain reactions that help other good habits take hold.
"If you want to do something that requires willpower—like going for a run after work—you have to conserve your willpower muscle during the day," Muraven told me. "If you use it up too early on tedious tasks like writing emails or filling out complicated and boring expense forms, all the strength will be gone by the time you get home."
For almost all our married life, we have kept track of every penny earned and spent. It's the best way we know of to learn where our spending habits are on track and when they're veering off into trouble. I've always been surprised at how few people do that—even people who have far more cause to be concerned about money matters than we do. I mention it because that exercise turns out to be one of the ones researchers have used for building "willpower muscles."
Participants were asked to keep detailed logs of everything they bought, which was annoying at first, but eventually people worked up the self-discipline to jot down every purchase.
As people strengthened their willpower muscles in one part of their lives—in the gym, or a money management program—that strength spilled over into what they ate or how hard they worked. Once willpower became stronger, it touched everything.
An important concept in strengthening willpower is recognizing inflection points—situations in which one is most vulnerable to temptation—and creating a plan to deal with them. Then rehearsing the desired response to the point where the temptation cue triggers the healthy action.
This is how willpower becomes a habit: by choosing a certain behavior ahead of time, and then following that routine when an inflection point arrives.
A better response to apparent failure (backsliding, falling off the wagon, slipping out of one's organizational routine yet again) is also critical:
Studies suggest that this process of experimentation—and failure—is critical in long-term habit change. Smokers often quit and then start smoking again as many as seven times before giving up cigarettes for good. It's tempting to see those relapses as failures, but what's really occurring are experiments.
If you choose pressure-release moments ahead of time—if, in other words, you plan for failure, and then plan for recovery—you're more likely to snap back faster.
There is much, much more to The Power of Habit than personal change. That is only Part One. Parts Two and Three are about the habits of organizations and societies. That I'm skipping lightly over them in this review does not mean they are uninteresting or unimportant. If you want to know more about the news story that broke a while back, in which Target knew, from her buying patterns alone, that a teenage girl was pregnant (including her approximate due date) before her family did—this is the place.
And it was here that I finally learned the sad, sad story of Febreze. Proctor and Gamble serendipitously discovered a chemical that could actually eliminate odors, removing the cigarette smell from clothing, and pet odor from carpets, instead of simply masking them.
P&G, sensing an opportunity, launched a top-secret project to turn HPBCD into a viable product. They spent millions perfecting the formula, finally producing a colorless, odorless liquid that could wipe out almost any foul odor. The science behind the spray was so advanced that NASA would eventually use it to clean the interiors of shuttles after they returned from space. The best part was that it was cheap to manufacture, didn't leave stains, and could make any stinky couch, old jacket, or stained car interior smell, well, scentless.
But it didn't sell, because people don't notice the stinks closest to home. The product was almost trashed, until P&G gave it a strong scent.
[A]fter the new ads aired and the redesigned bottles were given away, they found that some housewives in the test market had started expecting—craving—the Febreze scent. ... "If I don't smell something nice at the end, it doesn't really seem clean now."
"We were looking at it all wrong. No one craves scentlessness. On the other hand, lots of people crave a nice smell after they've spent thirty minutes cleaning."
And that's why the one bottle of Febreze I bought, many years ago, sat unused after the first spray. I had bought an odor eliminator, or so I had thought, and had ended up with an odor-creater. Yuck. I do crave scentlessness: in my cleansers, in my paper products, in my greeting cards, in anything that's not supposed to have a smell. In my garden I love odors: roses, gardenias, orange blossoms. In my kitchen I love odors: baking bread, bubbling stew, cookies fresh from the oven. But not in my clothing, linens, and carpets!
On a more serious note, consider this response from a major gambling establishment, accused of unethical behavior in the case of a compuslive gambler:
Like most large companies in the service industry, we pay attention to our customers' purchasing decisions as a way of monitoring customer satisfaction and evaluating the effectiveness of our marketing campaigns. Like most companies, we look for ways to attract customers, and we make efforts to maintain them as loyal customers. And like most companies, when our customers change their established patterns, we try to understand why, and encourage them to return. That's no different than a hotel chain, an airline, or a dry cleaner. That's what good customer service is about.…
"But what was really interesting [in an MRI study of gamblers] were the near misses. To pathological gamblers, near misses looked like wins. Their brains reacted almost the same way. But to a nonpathological gambler, a near miss was like a loss. People without a gambling problem were better at recognizing that a near miss means you still lose."
Gamblers who keep betting after near wins are what make casinos, racetracks, and state lotteries so profitable. "Adding a near miss to a lottery is like pouring jet fuel on a fire," said a state lottery consultant who spoke to me on the condition of anonymity. "You want to know why sales have exploded? Every other scratch-off ticket is designed to make you feel like you almost won."
In the late 1990s, one of the largest slot machine manufacturers hired a former video game executive to help them design new slots. That executive's insight was to program machines to deliver more near wins. Now, almost every slot contains numerous twists—such as free spins and sounds that erupt when icons almost align—as well as small payouts that make players feel like they are winning when, in truth, they are putting in more money than they are getting back. "No other form of gambling manipulates the human mind as beautifully as these machines," an addictive-disorder researcher at the University of Connecticut School of Medicine told a New York Times reporter in 2004.
If you think all that's scary, try this:
[W]ise executives seek out moments of crisis—or create the perception of crisis—and cultivate the sense that something must change, until everyone is finally ready to overhaul the patterns they live with each day.
"You never want a serious crisis to go to waste," Rahm Emanuel told a conference of chief executives in the wake of the 2008 global financial meltdown, soon after he was appointed as President Obama's chief of staff. "This crisis provides the opportunity for us to do things that you could not do before." Soon afterward, the Obama administration convinced a once-reluctant Congress to pass the president's $787 billion stimulus plan. Congress also passed Obama's health care reform law, reworked consumer protection laws, and approved dozens of other statutes, from expanding children's health insurance to giving women new opportunities to sue over wage discrimination. It was one of the biggest policy overhauls since the Great Society and the New Deal, and it happened because, in the aftermath of a financial catastrophe, lawmakers saw opportunity.
Once you realize what's happening, you see it everywhere. From the Great Depression and the New Deal, to the 9-11 terrorist attacks and the Patriot Act, to school shootings and the campaign against gun ownership, people are frightened and vulnerable in times of crisis. That's when we are most prone to demagoguery, and our leaders most likely to make serious mistakes.
The author actually presents this vulnerability to change in crisis as something positive, a chance for hide-bound corporations to make much-needed changes. To me, it brings new light to the tendency of politicians, activists, and the media to pour incessant hype on every negative event.