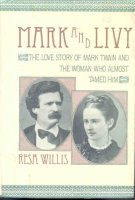 Mark and Livy: The Love Story of Mark Twain and the Woman Who Almost Tamed Him by Resa Willis (Atheneum, 1992)
Mark and Livy was a gift from a friend, who thought I might be interested because Samuel Clemens' wife was a Langdon. As it turns out, we are not related through the Langdon line—unless our common ancestor was back in England and in the 17th century or earlier. The book sat on my shelves until my 95 by 65 project (goal #63) encouraged me to pick it up.
I was going to say that Mark and Livy does not meet my primary criterion for being a "good book": that it inspire me in some way to become a better person. On reflection, however, I realized it has left me with a determination (which needs to be won repeatedly) to be less judgemental of others, especially those of other times and cultures. There are so many advantages we take for granted here and now—and how easy it is to believe that our good characteristics are the outflow of our good character, and not simply because we are not in pain!
Samuel and Olivia Clemens lived in the latter half of the 19th century. They died years before antibiotics were available. They didn't even have aspirin. Common vaccines had yet to be developed. Diphtheria took the life of the Clemenses' firstborn when he was not yet two—as it did so many children of the time. Headaches could last for weeks, and infections linger for months. In an age of great medical ignorance, treatments were often worse than the diseases. It is now known that even three weeks of remaining in bed does terrible damage even to healthy bodies, but at that time bed rest was the go-to cure for everything. As a teenager, Olivia was kept in bed for two years. Even mental exertion was considered harmful and to be avoided as much as possible.
No wonder so many middle- and upper-class women of that time suffered from a malaise sometimes called nervous prostration. With careers and mental stimulation mostly closed to them; with cooks, housekeepers, gardeners, wet nurses, nannies, and tutors doing all the meaningful work around the house; and with every illness sending them into darkened bedrooms, deprived of most human contact (visitors, even beloved husbands, put too much strain on the system)—they were bored out of their minds. And out of their health much of the time as well.
Some things never change: Doctors blamed the problem on the demands of modern life: "...the fast ways of the American people, with their hurried lives, late hours, and varied excesses, wear upon the nervous system of all, especially that of sensitive, impressible women."
Should I be condescending over Mark and Livy's susceptibility to every quack and crackpot philosophy that came down the pike? Needs must when the devil drives.
For more about health and medical care in the 19th century, don't miss The Luxury of Feeling Good from The Occasional CEO, coincidentally published this morning.
Langdon Clemens, the couple's firstborn son who died young, was considered sickly all his life. He was born a month premature and never seemed to be healthy. It was diphtheria that killed him in the end—it killed many who were otherwise healthy—but the book gives no clue as to what caused him to be "sickly." What struck me, however, was that he was considered "slow" in his development. Perhaps he was, but I'm not convinced by the concerns that he wasn't walking by nine months, nor talking when he was "almost a year old"! What did they expect in those days? And of a preemie who started life a month behind?
Here's a fun fact:
Livy and Clemens felt the need to get away [from Hartford's summer heat]. In July they left for New Saybrook, Connecticut ... where all could enjoy the cool winds off Long Island Sound.
New Saybrook? Old Saybrook I know well enough! But New Saybrook? Where on earth is that? Here's a hint:
...they lodged at a hotel called Fenwick Hall....
New Saybrook, it turns out, is an old name for Fenwick! Here's a bit of its history in a New York Times article from 1995, though it doesn't mention a thing about the best-of-all-Fenwick-houses. Still, it's rather amazing to think that Mark Twain could have walked past where the Maggie P. now stands.
Despite being wealthy enough to vacation at Fenwick, the Clemenses had endless money problems and often lived in Europe because that was less expensive for them. That tells less about Europe than about the difficulties of living up to the expectations of their Hartford social set, I'm afraid. Still, it was fun to read:
Clemens ... walked to the top of the Rigi in the Alps.
We've been there! We did not walk, however. I wonder from which point he started his hike?
Despite the strictures of the day and her onerous social obligations, Livy found some outlet for her considerable intelligence. The best part of her day was when she felt free to teach their children:
After breakfast and after she had given the servants their orders for the day, Livy and her daughters worked diligently in their schoolroom on the second floor. Their studies included German, geography, American history, arithmetic, penmanship, and English, with some extra diversions of tossing beanbags, gymnastics, and sewing. [The girls were five and seven at the time.] If they finished their lessons before twelve-thirty, Livy read to them. [Clara] at five and eager to please, knew all the answers but often got her questions confused. When her mother asked, "What is geography?" she replied, "A round ball." When asked what was the shape of the earth, she replied, "Green."
Moreover, Livy was Mark Twain's most important editor, smoothing off the rough edges of the wild writer from the West and making his books acceptable and marketable.
This she far preferred to her social responsibilities as the wife of a famous author and the scion of a wealthy family. (Yes, the Langdons were wealthy—further proof that we're not closely related.)
She increasingly questioned her role as hostess and felt bad because she did.

This is my work, and I know that I do very wrong when I feel chafed by it, but how can I be right about it? Sometimes it seems as if the simple sight of people would drive me mad. I am all wrong; if I would simply accept the fact that this is my work and let other things go, I know I should not be so fretted; but I want so much to do other things to study and do things with the children and I cannot.
In the plus ça change department, do you think we suffer from helicopter parenting today? The Clemenses kept their daughters close in what today would probably be considered an unhealthy relationship of mutual dependence. Further,
[Clemens] insisted his daughters be chaperoned everywhere they went, and Clara was until she married at the age of thirty-five [emphasis mine].
That makes being on your parents' health insurance until 26 seem almost reasonable.
And still more: I'll admit I'm weak in history. I knew about the Great Depression, but if I thought of it at all, saw it as an anomaly, a one-time, terrible event. Thus the economic problems we have been having lately have been particularly concerning. I had no idea, until reading Mark and Livy, how common market crashes, panics, and recessions have been throughout history.
Just as John Marshall Clemens never recovered from the Panic of 1837, this panic [of 1893] nearly destroyed his son. It began who knows where but was aided by a drain on the gold reserve by foreign investors who sold their securities and withdrew them in gold from the U.S. The Sherman Silver Purchase Act, allowing gold to be used to purchase silver, further depleted the federal gold reserve by nearly one hundred million. Gold meant confidence. Without either, the dominoes began to fall. The stock market crash eventually took with it 160 railroads, five hundred banks and sixteen thousand businesses. It was estimated by 1894 that 20 to 25 percent of the work force was unemployed. Those with jobs went on strike to get decent wages as there seemed to be no money anywhere. Miners across the nation refused to work. Eventually the Langdon coal mines and Livy's income shut down.
Rich or poor, black or white, first- or third-world, centuries ago or yesterday morning: our tragedies and our trials, our worries, our hopes, and our joys are more universal than not.
We are humanity.