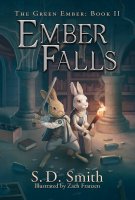 Ember Falls: The Green Ember, Book II by S. D. Smith (Story Warren Books, 2016)
It was with a heroic effort I refrained from reading Ember Falls until this week. I'd received an advance copy because of supporting its publication on Kickstarter, and when it arrived I nearly drooled on it, but I had decided to wait until I finished some other books—not more important, but important in a different way—and also so that I could reread the other two books in the series: The Green Ember, and its prequel, The Black Star of Kingston. It had been almost exactly a year since I'd read them, and I figured I'd enjoy Ember Falls more with a little refresher.
But finally the day came, and Ember Falls was mine to devour. It didn't take long, even though I refused to let myself stay up all night to finish it. I'm not that crazy. And in any case the story didn't end: I'm already panting for Book III.
Not that the ending of Ember Falls is unsatisfactory, but it isn't an ending.
Pretty much everything I had to say in my review of the previous books applies here, so I'm going to quote a big chunk of it. At the end I'll add some Ember Falls-specific comments.
The Green Ember is just a story. It's not a lesson, it's not a sneaky vehicle to teach you something. It's just a story. But I believe in the power of stories. — S. D. Smith
I also believe in the power of stories, whether from a book, a movie, a video game, or any other medium. Even at my age I must be careful what stories I let myself experience, because I'm so vulnerable to their effects. By now most of you know what's coming, my definition of a good book, slightly paraphrased: A good story inspires me to be a better person. These are good stories, not at all in a syrupy way, but shot through with reality, life, action, and beauty.
It was a little jarring at first to wrap my head around the idea that the rabbits have both human and rabbit physical characteristics. That is, they are fully capable of using their front paws as hands (e.g. wielding swords, making stained glass windows, knitting), while their hind legs are rabbit-style powerful weapons. But it didn't take me long to get over it.
Let's see, what do I like about this book, other than its positive impact and the fact that I was immediately entranced and didn't want to put it down?
The primary protagonist is a strong female character. I've mentioned before how I grew up with books that made me embarrassed to be a girl, and nearly always identified with the male characters instead. Here's a female character who can think, fight, nurture, worry, and push herself beyond her limits.
This rabbit heroine is named Heather!
The secondary protagonist, Pickett, is highly intelligent and mathematically talented, and his gifts don't make him a freak, but rather a valuable asset in the community.
Due to his young age and the trauma in his life, Pickett has some dangerous emotional issues. The wisest rabbits in the community don't seek to make him "normal," but instead help him find healing through becoming more, not less, himself.
This is very much a medieval rabbit world. They fight with swords and arrows—and feet and just a little bit of gunpowder. They make clothing by hand. Skills are learned through apprenticeship. Somehow chivalry and honor and high callings fit better in a medieval-themed world, as J.R.R. Tolkien and C.S. Lewis amply demonstrated. Even George Lucas filled his high-tech future with swords and knights.
The rabbit community values, supports, and praises excellence in every good endeavor, from cooking to fighting to building to storytelling. The end of the rabbits' world seems imminent, yet they emphasize the importance of the arts, and value doing the work of ordinary life extraordinarily well.
Ember Falls did not disappoint. I'll admit that of the three books thus far, it's not my favorite. That would be The Green Ember, because it shows more of the beauty of ordinary life done well. Ember Falls is clearly a middle book, necessarily darker and more filled with battles. (You all know how much I dislike battle scenes.) There are wonderful moments, definitely: goodness, truth, and beauty still pierce the darkness. But sometimes life is hard, calling for courage, loyalty, sacrifice, wisdom and forgiveness to shine more brightly than in happier times. At this Ember Falls succeeds abundantly.
I'm still very pleased with the way Smith handles his female characters. They are determined, and strong as steel, yet gentle and nurturing. If I have one complaint it is that Pickett, the young genius, hasn't yet been allowed to use his mathematical abilities for anything more than an extraordinarily good sense of spatial relations. But maybe that's necessary in war—and I am glad that Smith breaks the stereotype that associates mental gifts with clumsiness and lack of common sense.
Bring on the next book! Bring on the next Kickstarter appeal. I'll be there. #RabbitsWithSwords
---
This is my 100th post for the year. Apparently I'm pretty consistent. Last year I wrote my 100th post on September 21.