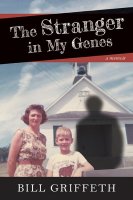 The Stranger in My Genes by Bill Griffeth (New England Historic Genealogical Society, 2016)
The New England Historic Genealogical Society has been pushing its new book for quite a while, and I've mostly been ignoring it. I love the NEGHS, especially its treasure-filled library in Boston. But I mostly—perhaps wrongly—associate them with dusty old tomes, the value of which lies in the bits and pieces of genealogical information that can be gleaned from them. The Stranger in My Genes is NOT that kind of book. The NEHGS very wisely published the first chapter in their American Ancestors magazine, and I was immediately hooked.
The book I was in the middle of reading (okay, barely started) is H. D. Smyth's Atomic Energy for Military Purposes. It was a gift for my father from his parents on his 24th birthday, and currently sits on my bookshelves with his other books on the immediate post-Hiroshima period. It is also nearly 300 pages of dense technical writing, so when The Stranger in My Genes became available at our local library (I had requested that they add it to their collection), it's small wonder I jumped at the diversion.
Part genealogy, part mystery, and part cautionary tale, this soul-searching human-interest story is also beautifully-crafted. What's not to like? Both Porter and I read it in a day. That's not to say it's short or simple; we just couldn't put it down.
I won't say much about the story itself to avoid spoiling the mystery. Author Bill Griffeth, an amateur genealogist, received a big surprise when comparing his DNA test results with his cousin's: they weren't related. Where that led is the subject of his book, and illustrates well the risks and benefits of genetic testing.