Some days I feel for Don Quixote. It may be just a windmill, but it looks like a giant to me.
Partner.
It was such a good word, and now I'm beginning to loathe it.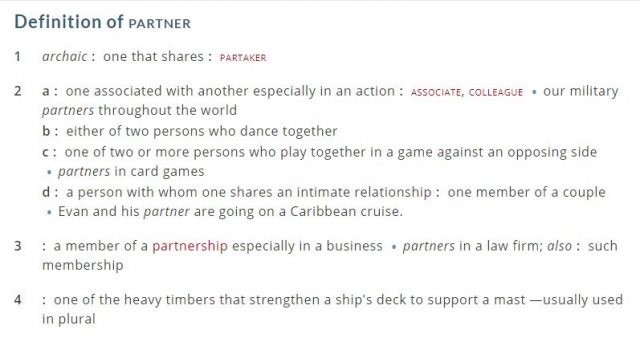 (Definition from Merriam-Webster online.) To me, the word "partner" has always meant definition 2a: one associated with another, especially in action. That actually covers most of the other definitions as well. My daughter and I make up a team on WordChums; we are partners. If together we owned an ice cream shop, we'd be business partners. If we decided to rob a bank to finance that ice cream shop, we'd be partners in crime. It's a good, descriptive, practical word.
But lately I've been seeing it used as in the following two quotes from a book I read recently.
We need to understand how we can support and connect with our partners, sons, fathers, brothers, friends, and children....
Certainly women—mothers, sisters, partners, girlfriends, daughters—also shame men about their masculinity and power....
Do you see what's happening here? Mother/father, son/daughter, sister/brother are recognized as distinct entities, but husband/wife is gone. Even the inclusive "spouse" is gone, replaced by "partner," definition 2d, which is not at all the same thing.
Certainly my husband is my partner in that sense, as well as in the more general sense of 2a, and for that matter most of the other definitions. But "partner," in more recent usage, is far too broad a term, boiling down basically to "the person I'm having sex with on a regular basis." The marriage relationship is so much more than that. (I tried substituting "the person I love and am living with," but as that can include children and other family members, it's clearly not what is meant by this sense of "partner." Sex seems to be the obvious distinction.)
Most pernicious, it seems to me, is that "partner" loses the ideals of exclusivity and permanence. Marriages may fail at either or both, but the intent and the ideal are there from the outset. Partnerships are generally formed for a limited, specific purpose, and with the understanding that they can and probably will be dissolved at some point. A nation's allies will change; dancers will "cut in," my daughter may decide to she wants to be on her aunt's team for the next WordChums game; maybe a business partnership will split into two or three different companies.
One term implies a lifelong, exclusive commitment—not only to a person but to that person's family and especially to any children of the union. The other implies that eventual dissolution is normal and even to be expected. They are not interchangeable.
That's a giant worth battling, even if the world sees only a windmill.