Since mid-November, my reading has been rather light, there being nothing intellectually challenging about my last 13 books. (Well, Boys of Blur could be—I need to re-read Beowulf—but it was enjoyable enough without going into all that.) I had planned to continue that trend for a while, not from any particular desire for easy reading, but because I want to re-read all the existing Green Ember books before the new one is released.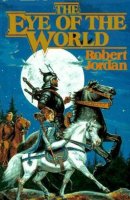 My eldest grandson, and the library, changed all that.
His current all-time favorite book series is Robert Jordan's The Wheel of Time. With that kind of recommendation, I thought it would be good to check it out. Recently our libray sent notice that my hold for the first book in the series, The Eye of the World, had come through, so today I ventured out to pick it up.
The librarian didn't quite need a hand truck to bring it from the back room.
The book is 670 pages long.
I hope I like it, because 670 pages will be a long slog if I don't. But I'm more than half hoping that I don't like it too much, because there are 13 more books in the series, plus a prequel and a companion book.
Long gone (though only five years past) is the time when I could sample his taste in reading by whipping through half a dozen Animorphs books in a few days.