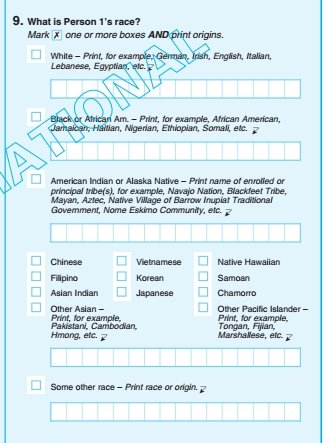 A National Public Radio story reports that the 2020 U. S. Census will ask more detailed questions about race and ethnicity, as shown to the left on one of the possible new forms. (Click image to enlarge.)
I can appreciate not being labelled simply as "white" as if some races have further identities but white is simply white. However, it sure complicates filling out the form, and I have my doubts about how much useful information it will generate. I know more about my ancestry than most Americans, and I can't answer this question.
There simply is no room in those boxes to enter "English-German-Welsh-Irish-Scottish-French-Dutch." And if I manage to confirm the (currently quite speculative) Swiss branch, is that really Swiss, given that the family came to Switzerland from Germany? Is my French really French, given that it is actually Norman French, and the Normans were largely invading Vikings from Scandinavia? There's a good chance much of my English is also orignally Scandinavian—DNA testing suggests this as well—and my Scottish may have been originally Irish and vice versa.
Given that my most recent immigrant ancestors came to this country in the 1700's, I think I'll fill in the blank with "American" and let the chips fall where they may. But I've only learned this information recently, after years of research. That kind of research is even more difficult for African-Americans, thanks to slavery and the "1870's wall," but at least the census offers "African American" as a choice—which just happens to fit exactly into the boxes allowed. I suppose I could try "European American"—but that won't fit.
How many Americans know their ancestry further back than their grandparents, anyway?
There's going to be a lot of guesswork going on.