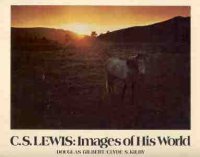 C. S. Lewis: Images of His World by Douglas Gilbert and Clyde S. Kilby (Eerdmans, 1973)
This book of photos—places, people, manuscripts—from the world of Clive Staples Lewis was a gift from Porter eons ago, probably not many years after its publication. I read it then, of course, and just re-read it as part of my newest reading project: binge-reading all the books in our home library by or about a particular author. I have previously tackled George MacDonald, J. R. R. Tolkien, William Shakespeare (plays only, read or viewed), and Miss Read (Dora Jesse Saint). Since the C. S. Lewis collection is exceeded only by our George MacDonald books, this is no small project.
Often I read the books in publication order, because I think that gives insight in to an author's growth and development. I'll do some of that with Lewis, but I thought I'd start with a biography, and this book seemed good to read even before that ("Book 0"), to give context to what I will be reading. It was a good choice.
It's largely a picture book, no surprise, so there's not a lot to quote from, but there were two I couldn't resist marking.
In spite of his academic success [at Malvern College], Lewis wrote home in March 1914, imploring his father to take him away. His brother Warren commented: "Much to my surprise, my father reacted to this letter by making an immediate and sensible decision. Jack was to leave Malvern at the end of the school year.... The fact is that he should never have been sent to a public school at all. Already, at fourteen, his intelligence was such that he would have fitted in better among undergraduates than among school boys; and by his temperament he was bound to be a misfit, a heretic, an object of suspicion within the collective-minded, and standardising, Public School system."
Granted, what the Brits mean by "public school" is not the American version, but the point about how school life treats those who don't fit in—especially if they are particularly intelligent—is still the same. It is worth noting that Warren himself was very happy at Malvern, yet he also said (taken from another source), "He was, indeed, lucky to leave Malvern before the power of this system had done him any lasting damage."
After almost 30 years as a professor of English Language and Literature at Magdalen College of Oxford University, Lewis became Chair of Medieval and Renaissance English at Magdalene College, Cambridge.
I think I shall like Magdalene better than Magdalen. It's a tiny college (a perfect cameo architecturally) and they're all so old fashioned, and pious, and gentle and conservative—unlike this leftist, atheist, cynical, hard-boiled, huge Magdalen. Perhaps from being the fogey and "old woman" here I shall become the enfant terrible there.
I can identify with that. Put me with liberals, and my conservative side predominates. Put me with conservatives, and my liberal side comes to the fore. Always the troublemaker.