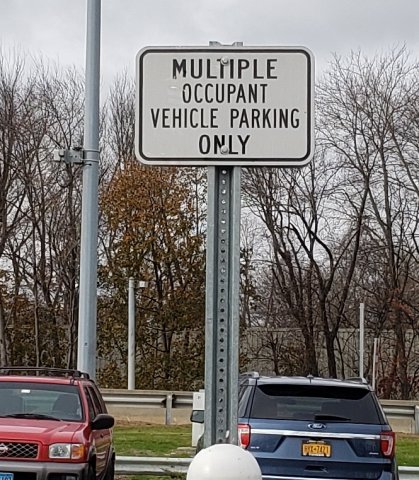 This is an actual sign that we encountered in an actual rest stop parking lot in Connecticut. I immediately began wondering:
Is effectively reducing the number of parking spaces available really Connecticut's best solution to inadequate facilities?
How do they know the vehicle is travelling with multiple occupants?
If they patrol the lot, giving tickets to offenders, should we leave two people in the car and use the restroom in shifts? On this trip, we could have done that.
However, we are often travelling with just the two of us. A car with two people in it is certainly a "multiple occupant vehicle," but leaving just one in the car while the other uses the facilities might lead to an unpleasant encounter with the guard, since he would see only one person in the car.
Is there a surveilance camera in the lot? There probably is. When you drive in, does it detect how many people are in the car, then automatically mail you a ticket if it records you parking in the wrong spot?
In the end, we just parked in an "everyone is welcome" space and entered the building together.