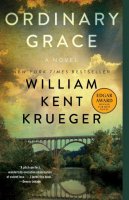 Ordinary Grace by William Kent Krueger (Atria, 2013)
My son-in-law has had remarkable success in recommending fiction books for me. This was one of his few failures. Despite its New York Times bestseller status, its awards, and the glowing reviews, it's not my kind of book. Yes, it's a mystery, and that is its best quality. I don't hold anything against it just because I figured out whodunit before it was revealed. I rather enjoy feeling clever.
However, it is a coming-of-age story, and that genre sits on the bottom of my rankings, along with Horror and Romance. It's much to the credit of The Silent Swan that I esteem that book so highly, given that it could also be called a coming-of-age story. A line from my review of that book is just as applicable here: If this story provides an accurate description of what goes on in a teenage boy's mind whenever he sees a woman ... let's just say I'm feeling a lot better about burqas. And a lot worse about teenage boys.
But my dislike of the genre is not particularly about sex; it's more the self-centered focus of what's going on in the protagonist's mind and heart. It's not just teenage boys whose thoughts are such cesspools of selfishness, envy, anger, pettiness, greed, and lust. God knows (and I use that phrase in all reverence) I don't need to look any further than my own heart to find all that. But I don't enjoy seeing it all spread out before me as on an autopsy table—and more often than not presented as something normal and therefore nothing to be ashamed of. More to the point, I don't think it's good for me to see it like that.
Plus, having grown up in a family where we never, ever used bad language, and in a time where women did not swear and men did not swear in front of women—and those conventions kept a tight rein on the media—I just can't get used to it. It is physically painful to me to hear such language, and reading it isn't much better. (There are some exceptions.) I do not usually seek out books that hurt.
Ordinary Grace is far from the worst of offenders in either subject or language. In fact, it's quite mild, and somewhat redeemed by the mystery. The only reason I'm bothering with this negative review is to figure out (and help gift-givers to figure out) what works for me in a book, and what does not. Even at my age I'm still a mystery to myself!
In fact, I rather suspect that my book-loving sister-in-law would enjoy Ordinary Grace very much. I think I can find it a good home. (Update: I was right, and I was wrong. I must find another good home, because she has already read Ordinary Grace, and yes, she did enjoy it.)