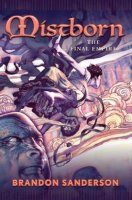 Mistborn: The Final Empire by Brandon Sanderson (Tor 2006)
At last I ventured into Mistborn territory, at the urging of my brother and my grandson, and because I've read and enjoyed a couple of other Sanderson books. I was reluctant to get involved with a series of very long books (this one is 541 pages), but there's a difference between a 500-page nonfiction book—even a really enjoyable one—and good fiction of similar length. This book did not take long to read, and the only reason I haven't moved on to The Well of Ascension, the second book in the series, is that our library doesn't have it. I've submitted a request....
I can't say I love Brandon Sanderson's writing as much as our grandson does, at least not yet. It's impossible to judge a book like this on first reading, especially when it's part of a series, but I didn't feel the deep connection to the good, the true, and the beautiful I've felt in my favorite books, such as J. R. R. Tolkien's The Lord of the Rings, C. S. Lewis's Narnia stories, and S. D. Smith's Green Ember books. Even in my favorite authors that connection is not the same in all their works: it's there, for example, in Lewis's Space Trilogy, but not nearly as strongly. That's okay; authors aren't required to be completely consistent, and they are allowed to grow and develop. :)
What I can say for certain about this first Mistborn book is this: it's clever, it's wildly complex, and it's enjoyable to read. It's more explicitly dark in places than I would prefer, and quite violent, but the foundation of the story still feels good, not evil. And there's no doubt that Sanderson is a clever, skilled, and thoughtful writer.
We'll see what the next book brings.