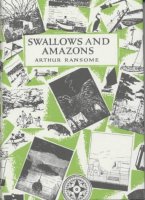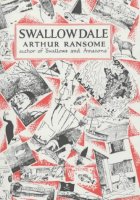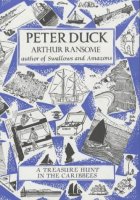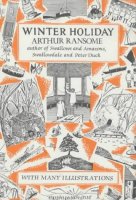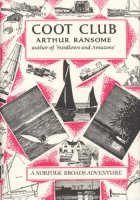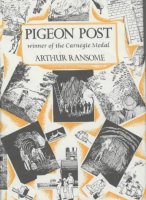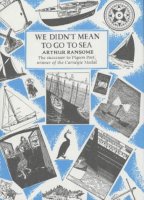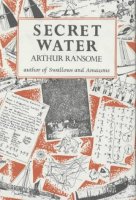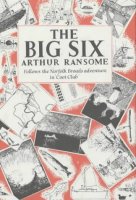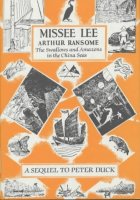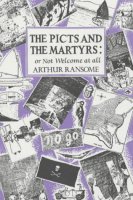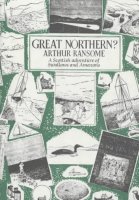 Swallows and Amazons ♦ Swallowdale ♦ Peter Duck ♦ Winter Holiday ♦ Coot Club ♦ Pigeon Post ♦ We Didn't Mean to Go to Sea ♦ Secret Water ♦ The Big Six ♦ Missee Lee ♦ The Picts and the Martyrs ♦ Great Northern? by Arthur Ransome (Jonathan Cape, 1930-1947)
Arthur Ransome's Swallows and Amazons is an all-time favorite series from childhood. We are blessed to have a full set of hardcover versions on our shelves, thanks primarily to my brother who braved Mad Cow disease to bring them home from England in the 1980's, when they were unavailable here. These enchanting books have been family reading for our children, our nephews, and our grandchildren, and I never tire of them myself. Therefore I was shocked to realize that the last time I read them—other than in parts, as I would occasionally look up a favorite passage—was more than ten years ago. It was definitely high time to work my way through the series again.
I fully agree with C. S. Lewis, who said, "A children's story which is enjoyed only by children is a bad children's story. The good ones last." Although the protagonists in these stories are children, and the books are set nearly 100 years ago, they are books for every age, and in every age. Boats and sailing feature prominently and so delightfully that I was convinced by these books that I would love sailing. Alas, I found the reality to be disappointingly unlike the fiction—but at least some of our grandchildren feel differently.
Swallows and Amazons Here it all begins. It was known as a "free-range kids" book before Lenore Skenazy made Free-Range Kids a thing. Six children (four Swallows and two Amazons), ranging in age from seven to twelve, camp entirely by themselves on an island, including making fires, cooking, and sailing all over the lake. What sets these books apart is not only the very realistic competence and responsibility of the children, but a strong sense of family, of love and respect between parents and children and among the children themselves. The sibling squabbles taken for granted today are simply nonexistent, yet their relationships are natural and unforced. What I find all the more remarkable is that this sense of family is maintained in a time and place where it was considered normal to send young children off to boarding school. And though fathers rarely appear in the stories—in this case, one has died and the other, a Navy man, is overseas—they are clearly loved, respected, and heads of their families. At the same time, the female characters are unusually strong and competent.
Swallowdale Expecting a return to their glorious island summer, the children now face several seemingly unsurmountable obstacles. Their adventures as they overcome these challenges make this one of my favorite books in the series.
"They look happy enough," said Captain Flint, watching the Amazon slapping across the ripples on her way to Horseshoe Cove.
"They aren't," said Captain John.
"Ï know they aren't, but the next best thing to being happy is to look it."
Peter Duck A story-with-the-story imaginative tale of a trip by the Swallows and Amazons characters from England to the Caribbean, complete with pirates and a treasure hunt. Parental caution: One of the pirates is black, treated on equal footing with the rest of the pirates, stereotyped along with the others for his profession but not for his race. The word "nigger" occurs six times in the book: once in the narrative of the pirates' "ship's boy"—a "street kid" with an appropriate vocabulary—in which it is descriptive, not pejorative. The other five times it is used as a slang identifier for a black pearl.
Winter Holiday If I had to pick a favorite among the Swallows and Amazons books, this would be it. Two new major characters are introduced, and the integration into the group of Dick Callum, who in modern times would be called a nerd, makes especially clear one of the strengths of this series. Each character is unique, each brings something valuable to the team, and each is appreciated for his gifts and lovingly tolerated for his quirks. On top of that, this is a story of a great adventure on the ice, coming out of what looked to be a disaster—an outbreak of mumps—with children and grownups in just the right proportions.
Coot Club When I first picked up this book as a child, I was disappointed. This story is set in a different part of England, with new characters and only Dick and Dorothea, the two introduced in Winter Holiday, to tie it in with the rest of the series. But the new characters are just as competent, independent, and engaging as the previous ones. If this story has too much of the kind of tension I dislike in a book—I hate bullying!—at least all's well that ends well.
Pigeon Post This time the original six children, plus Dick and Dorothea, are back in the original setting with new challenges, including some serious danger and real heroism. The title comes from the homing pigeons they use to communicate with worried adults while they are camped further afield, prospecting for gold.
We Didn't Mean to Go to Sea One of my very favorites of the series. I've always read it as an adventure story, but this time what stood out was a story of how courage, intelligence, good preparation, spiritual strength, loyalty, obedience, compassion, family, and love—all the character traits extolled in the best medieval (and medieval-inspired) romances—can unexpectedly be called upon in the ordinary lives of ordinary human beings.
Secret Water The youngest Swallow, four-year-old Bridget, is finally old enough for adventures with the rest of the gang. Being temporarily marooned on an unknown island, for the purposes of discovery and map-making, was not meant to be as dangerous as it turned out to be.
The Big Six returns to the setting and characters of Coot Club. Even knowing that the bullies lose in the end cannot diminish the discomfort I feel with their antics. Every time I read it. Nonetheless, it's an enjoyable story. Parental warning: there a couple of instances of the word "nigger," used by a young boy seeing a photographic negative for the first time. Younger people may find it difficult to believe that this word was once used as an innocent descriptor—and included those of Asian Indian as well as of African descent—with no malice intended. But it was. Still, today it requires some explanation—or skipping when read aloud.
Missee Lee is the second story-within-the-story. This time the six original Swallows and Amazons, along with the intrepid Captain Flint, are taken captive by Chinese pirates. Some readers will take exception to what they see as stereotyping of the Chinese people, but Ransome was familiar with Chinese life and culture, and based the character of Missee Lee, respectfully, on the wife of Sun Yat-sen and others he met during his visits to China in the 1920's.
The Picts and the Martyrs Set once again in home waters, this story features the Amazons, Dick and Dorothea, and a love-to-hate-her character from Swallowdale, the Great Aunt, who once again puts all sorts of obstacles in front of the planned idylic holidays on the lake. There's a surprise twist at the end that reveals a lot about the characters and makes this another one of my favorites.
Great Northern? There is some debate as to whether this is a "real" story or a third story-within-the-story. Those who choose the latter seem to base their reasoning largely on the presence of guns and threatened violence, but Ransome himself insisted it was not intended to be a made-up story like Peter Duck and Missee Lee. In Ransome's day, most people had a more balanced view of guns than many do now, and would not have thought them out of place in a children's story. This one is set in the Outer Hebrides and includes an introduction to Scottish Gaelic culture. Dick and Dorothea, the Amazons, and all the Swallows except Bridget are included, along with the bird protection theme that first appears in Coot Club. My enjoyment was only slightly marred by the presence of another evil bully, this time an adult, at the center of the plot.
Altogether this is a wonderful series of books, with a very positive view of children, parents, families, and communities. For all that, it is totally free of those awful elements that often creep into stories intended to make a point (positive or negative) about children, parents, families, or communities. It's clear that Ransome doesn't intend anything except to write good stories about people and places inspired by his own experiences.