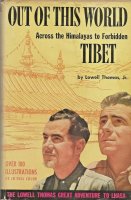 Out of This World: Across the Himalayas to Forbidden Tibet by Lowell Thomas, Jr. (Greystone Press, 1950)
This book is a legacy from cleaning out Porter's father's house. Through no fault of its own, it was a bit of a struggle to read, as its mustiness survived my attempts to clean it and reading took its toll on my upper respiratory system.
It was worth the effort.
Written in 1949 by Lowell Thomas, Jr., it is the story of his trek with his more famous father to Lhasa, the capital of Tibet, in a time when that country was almost completely closed off to foreign visitors. Arduous is not an adequate word to describe this expedition, which left me astonished at the courage and endurance of these men, not to mention the local people—and animals—who went along as translators, guides, and bearers.
The Thomases' rare admission to Tibet and almost-unheard-of admission to Lhasa were born out of desperation on the part of the Dalai Lama and other Tibetan officials. The people of Tibet, who only wanted to be left alone, were being threatened by a Chinese takeover, and they were hoping that the Thomases and their stories would raise Western awareness and get them some help. Sadly, we know how that turned out.
Nonetheless, the story is of much value, not only for their adventures, but even more for the historical and cultural insights (both Western and Tibetan).