I love Better World Books, and tend to spend a fair amount of money on their site. Why? Because they are without a doubt the least expensive way to ship books to our overseas grandchildren. I also appreciate that their prices are usually pretty good, if you're okay with used books. It's true they are a bit disingenuous with their "free shipping" policy, since the price of the same book rises considerably if you ship it overseas instead of within the U.S. I'm okay with that, but I don't call it free shipping when the cost is bundled into the price of the book. However, that cost is still a lot less than if I shipped the books myself, so I'm not complaining.
(Well, not about Better World Books, that is. I will complain about the United States Postal Service for its totally unreasonable charges for shipping overseas. They have skyrocketed in recent years, and the only thing that makes me stay with them is that other shipping agents are worse. It's why we never can pack light when we go to Switzerland, as it only makes sense to pack rather than ship.)
It also feels good that for every book I buy, Better World Books donates a book to one of the literacy and library charities that they support, and that's just one of the ways they promote reading. I'm sure they've done a lot of good.
But I'm quite glad that their corporate philanthropy is not the reason I buy from Better World Books. Otherwise I wouldn't know what to do with the discovery I just made.
You see, one of their major partners is a charity called Books for Africa. I learned that on this page. Here's an excerpt:
Better World Books donated 22,000 books to Books For Africa. This sea container went to Bangui and the Central African Republic. These books were part of a shipment of textbooks, part of an ambitious effort called "Million Books for Gambia (MB4G) Project.

"Thank you for your recent contribution to Books for Africa! Your donation towards sponsoring a container to the Central African Republic helps put books into the hands of African children who are eager to learn. We have well over one million books in our warehouse facilities just waiting for funds to ship them to Africa! Books for Africa remains the world's largest shipper of donated text and library books to the African continent, shipping over 40 million books to 53 countries since since 1988. " — Patrick Plonski, Executive Director, Books for Africa
I can ignore the fact that they have apparently conflated (or confused) the Gambia and the Central African Republic. What disturbs me is this photo from our visit to the University of the Gambia in 2016. It's taken through glass, looking into a storage closet, so it's not clear that there were boxes and boxes from Books for Africa piled in there, unopened. We were informed that they had been sitting there, untouched, for many months.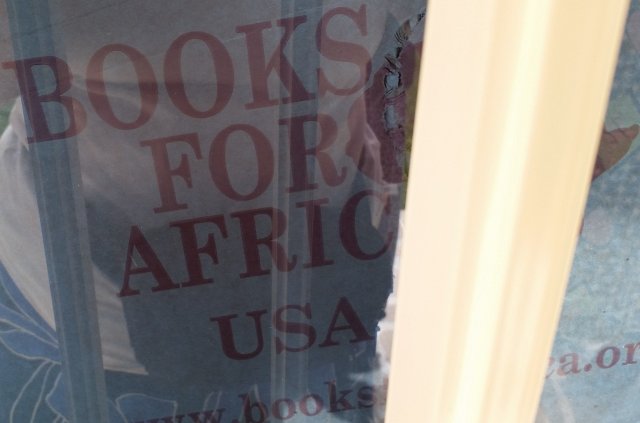 Will they ever do anyone any good? Are they still sitting there, in that closet? Are they sitting there because the university is falling down on the job, or because they know the books are likely to be useless First World castoffs? That happens more than we like to think. When Porter worked in Bangladesh, he noted that "charitable gifts" from Scandinavia often included winter coats and hats. For Bangladesh.
Could the money and effort that went into gathering these books and getting them to the Gambia's only university have been better spent? This is only one of the questions raised by our visit to the Gambia. Charitable giving is a much more complicated and nuanced affair than we want to believe.
Fortunately, in the case of Better World Books, that's not my problem. They can continue to work as they see fit to make the world better; undoubtedly there will be some hits among the misses. And I'll continue to thank them for making it possible—even reasonable—to send books to our family overseas.