I've featured the Lex Fridman podcast once before, his interview with former Soviet spy Jack Barsky. Fridman's podcasts are an amazing experience, not only because Fridman is both very intelligent and very interesting, but because he features guests who are the same. I'm not sure if he just choses exceptional guests, or if his interview technique makes them interesting. One thing I love: he lets them talk. No sound bites here. Fridman brings up a question, and he lets his guests run with it. Unfortunately, the side effect is that his shows are three hours long. But at least they work well split up into parts, which is what we usually do.
This video is from his interview with Canadian psychologist Jordan Peterson. Of course it is all interesting! But what I'm highlighting here is Peterson's personal diet, probably contrary to his wishes, since he says he doesn't like to talk about it and doesn't generally recommend it. The relevant part of the video is 2:03:06 to 2:10:19. This segment was introduced earlier, when he was asked if he started his day with coffee, and he replied, "Steak and water."
All this is very interesting, but the real point of this post is this steak that our oldest grandson just made with his new steam oven: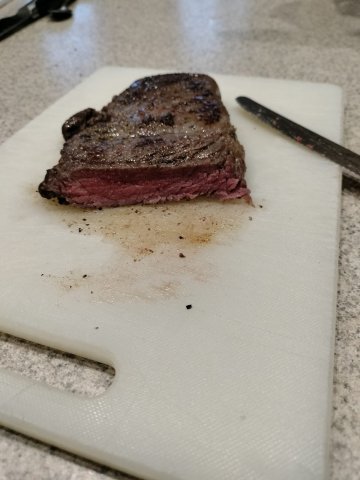 And this, also made in the steam oven, is why I'm not excited by Jordan Peterson's diet, even with infinite steak.