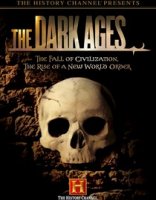 The Dark Ages (The History Channel, 2007, not rated)
Having worked for a number of months in New York City, Porter had the opportunity both to explore the History Channel on television and to observe throughout the city the advertising placards proclaiming, "The History Channel: Where History Is Made Every Day." If he were a vandalizing sort of person, New Yorkers would have soon seen a slight alteration in the slogan:

With my expectations sufficiently lowered, I found The Dark Ages not to be too bad. (Thanks, Netflix.) It's not my favorite approach to a historical documentary—Ken Burns set a standard that is hard to beat. The tone is unpleasantly sensationalistic, and the re-enactments almost painfully unprofessional. But the facts are consistent with what little I know of the time period (as consistent as historians get, anyway), and without doubt the show packs an amazing amount of history into 94 minutes.
I believe history needs to be taught using many sources, and many approaches. Not only does this help balance out the inevitable bias each historian brings to his work, but I'm sure I'm not the only person who needs to hear a fact at least three times before it sticks with me. The Dark Ages is not a great show, but it works well in this context.