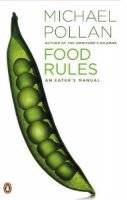 Food Rules: An Eater's Manual by Michale Pollan (Penguin, New York, 2009)
Food Rules is a condensation of what journalist Pollan has learned from his investigation of what's wrong with the American diet and how it can be improved. If this is the only Pollan food book you will read, or if you want to introduce his ideas to a skeptical friend with a short attention span, it rates five stars. Half of the 140 pages are merely pictures, and the other half are short and very easy to read.
I enjoyed reading through it, but am glad I borrowed it instead of buying it, as for my purposes The Omnivore's Dilemma and In Defense of Food are better. (On the other hand, at $6.60 from Amazon, the book costs no more than one of those fast food meals Pollan wants us to avoid.)
From #1 Eat food (as opposed to edible food-like substances) to #63 Break the rules once in a while, following these succinct suggestions would go a long way towards improving most people's diets. Best of all I like Pollan's relaxed attitude that reminds us that eating well isn't rocket science, nor is it onerous. It's a basic birthright that we have lost and must reclaim for ourselves and our children.