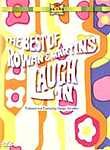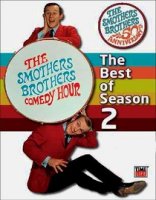 Rowan & Martin's Laugh-In and The Smothers Brothers Comedy Hour
Thanks to Netflix, we're reprising the 1960's. Just a little. Contrary to popular, romantic belief, the 60's and 70's were a difficult and painful time for our country, and while there was some progress made in important arenas, I see those times as watershed years, in which our society turned rapidly for the worse in many ways. I never did like Forrestt Gump; it cuts too close to the bone. Nonetheless, while searching for some clean comic relief, I chose to look backwards, at some "best of" takes on two shows that made me laugh in my high school days.
My memory was confirmed that of the two the Smothers Brothers show was by far the better. I've removed from our queue the remaining Laugh-In disks in the series, but kept two more of the Smothers Brothers. They make me laugh still. Only now, I cry as well.
It's hard to imagine calling anything from the 1960's "innocent," but in comparison to today's show, that's the proper adjective. Yet the seeds of today's hard-edged, cynical depravity were clearly there for those with eyes to see. Even now it stings to realize that the cautionary words of our old-fashioned elders were right, and our insistence that it was all harmless fun was wrong.
Don't misunderstand me: there was a lot of harmless fun in the shows, and even some important social commentary. But in attitude and innuendo there was the beginning of a darker trend, a crack in the foundation as it were, which has now widened into a breach.
One thing I like about the Smothers Brothers show is all the music, especially when Tom plays his acoustic guitar and Dick his string bass. They both had beautiful singing voices, and frequently sang lovely old folk songs. Also interesting is seeing the beginnings of later-famous groups, such as future country star Kenny Rogers singing psychedelic rock with the First Edition. Less amusing was an early performance by the Who, who smashed not only their own instruments but (unexpectedly) Tommy's guitar as well. Tommy did an amazing job of staying cool about it, though that may have been because all were reeling from the explosion of a cannon in the drum set. It had unintentionally been loaded with a triple charge and literally blew the set apart, injuring the drummer with shrapnel and causing permanent hearing loss in one of the guitarists. In the spirit of "the show must go on," it's not obvious to the viewer that all didn't go as planned.