Janet and Stephan are the proud parents of Joseph Andreas Stücklin, born at home in Basel, Switzerland on June 28, 2010, at 5:28 a.m. after 25 hours of labor. Joseph arrived a week early, proving his independence at an early age: Stephan, Janet, Heather, and all of Heather's children were late. Thus we were taken a bit by surprise, and if Janet had known when he was coming, she would not have scheduled two days of major exams (Thursday and Friday), a wedding for which she was not only a guest by also a participant (Saturday), and a mere four hours of sleep before going into labor on Sunday. But she was a trooper and her stamina showed that she had been taking good care of herself all along—barring the last few days. (Click photo to enlarge.)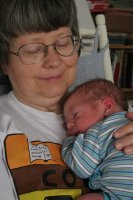 The vital stats: 3590 g (7 lbs 15 oz), 51 cm (20 in) long.
There were several similarities between Janet's labor with Joseph and my own with Heather, which brought back memories both pleasant and not so pleasant. There were surprising similarities, also, between Joseph's birth and that of his birthday buddy, his cousin Noah, four years earlier.
I expect that some day Janet will write her own post, but at the moment she's finding more important things to do. You can check out Stephan's blog for more. Eventually I'll have a few more comments, too.
I wouldn't call it a picture-book birth, more an Old Master's painting birth: the laboring mother surrounded by her attendants, which numbered five at one time or another, each with a different role to play. It was a joy and a privilege to be one of them.