I left the new family to their own devices on Saturday morning, when Stephan's mom whisked me away for an adventure. There is a small farm in nearby Riehen which, as I understand it, specializes in biodiversity/heritage breed conservation of berry plants. On this day, they opened their farm to the public for tasting! We could take nothing away, not even by purchase, but were welcome to taste and enjoy all we wanted.
(Somewhere therein is a metaphor for life, I'm certain.)
There were tiny strawberries with the sweet, strong flavor I remember from my childhood, from the wild plants that once grew profusely in the field near our house in New York. My mother would make the most delightful strawberry jam imaginable from what berries escaped immediate consumption.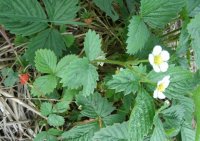 The raspberries had clearly been the most popular among those who had come before us, but there were still plenty left for tasting, including a white variety.
Even more to my delight, though less popular in general, were the tiny black raspberries, again from my childhood; we called them "black caps."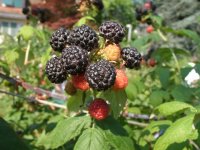 And one more childhood memory; this one will be shared by my younger siblings, whose memories are more solid of our time in Pennsylvania.
Some fruits were new to me. A former neighbor had black and red currant bushes, but she moved soon after we became acquainted, and the bushes were cut down. This was probably my first taste of fresh currants in over 30 years. The black were my least favorite of all the tastes there, but the red and the white were exquisite.
Finally, there were the gooseberries (green) and the jostaberries (purple). Having cut my teeth on (and learned spelling from) English novels, I'd heard of gooseberries, but had never, to my knowledge, tasted one. They are delicious. The jostaberries—a somewhat complex mixture of gooseberry and black currant—tasted strange at first, but that impression soon evolved into a nice, tart flavor.
(As usual, you can click on the images to see the full version.)
Not everything was ready for tasting.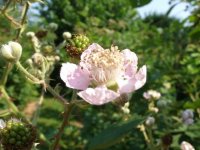 As might be expected from a farm specializing in diversity, there was no such flavor as, say, "raspberry," any more than "orange" can cover the vast spectrum of Citrus sinensis. Half the fun was moving from one bush to another apparently the same, and being surprised by the change in taste.
Over half a century I have watched our choices for food (and much else) expand astronomically, and yet at the same time contract. We can eat food from all over the world at nearly any time of the year, and appreciate ethnic recipes of which our ancestors knew nothing. Yet at the same time our choices within a particular food are narrowing, perhaps dangerously. Milk is milk, orange juice is orange juice, tomatoes are tomatoes (or red tomato-like substances in the grocery stores), hamburger is hamburger, and we know nothing of the rich variability within a single food.
My gratitude is great to the Creator who wove such diversity into his work, to the gardeners who lovingly, carefully work to nurture and extend that diversity, and the heritage breed preservationists whose efforts may allow us once again to recover the flavors that delighted our ancestors.