Not long after we moved to here, we planted a couple of blueberry bushes in the backyard. As with many of our Florida gardening ventures, this one could not have been called a rousing success. Or perhaps it could, in a relative sense, simply on the grounds that the bushes are still alive. But they never seemed to bear more than a handful of berries each year, and the birds always got to most of those before we did.
This year, however, was different. I have no idea why; but look at all the berries on this branch! (Click on the picture for a larger view.)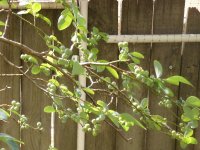 So Porter decided it was about time we stopped ceding the crop to the birds, and built this: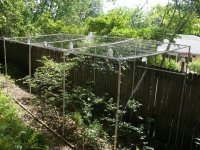 Was he more clever than the birds? We'll let you know when the berries ripen.