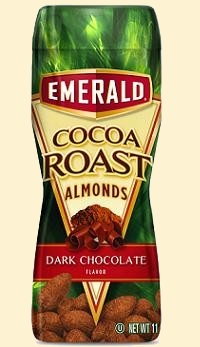 When will I learn not to trust product labels? I tasted these delightful cocoa almonds at the Daleys' and didn't resist when our local Publix had them on a buy one, get one free sale. They were just as good as I had remembered, and Porter agrees with my assessment.
The problem? Hidden away at the bottom of the ingredient list—which otherwise is agreeably small, for a snack food—is that hateful word, "Sucralose."
Now, I'm not opposed to artificial sweeteners for those who want to use them. Xylitol, for example, is an important part of my dental care, and I don't want any well-intentioned busybodies trying to ban it.
But I'm also in favor of full disclosure when it comes to food products, and hiding artificial sweetener behind small print is cheating. One ought to be able to assume that a product is sweetened naturally unless otherwise clearly informed. They could at least have used the same upper case letters that boldly inform me that this product "CONTAINS ALMONDS." Really? A product named "Cocoa Roast Almonds" contains almonds? What is the world coming to?