It's hard being a long-distance grandmother, whether the distance is 1000 miles or 4800. Certainly I'd rather our grandchildren live just down the street! But one compensation for the loss of frequent interaction is the joy of seeing how much the children change between visits. As we await the time when I'll have baby news to announce, I'll share a few stories of life with Joseph, 18 months old and soon to assume the important role of big brother.
John Ciardi said that a child should be allowed to learn, "at the rate determined by her own happy hunger." Joseph's current "happy hunger" is for letters and numbers. He has a wooden puzzle of the upper case alphabet that is the first toy he takes out in the morning, and again after his nap. This was supplemented at Christmas by the nicest number puzzle I've seen, which includes the numbers from 0 through 20 and arithmetic operators as well.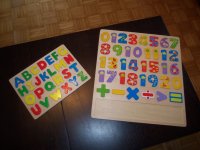 First, he toddles over to the shelf for his alphabet, and then—because it is more difficult to reach—points to the number puzzle and commands, "Hum!" ["Numbers!"] After naming the numbers and letters to himself and/or asking for them to be named, taking them out of the puzzle frame, putting them back in, and yes, throwing them with glee across the room—he is a little boy—he will get paper and a pencil and ask for various numbers and letters to be written, often adding his own scribbles, which, of course, look nothing like the models—yet.
Joseph knows all the letters, most by letter name (e.g. "bee," "ess," "tee"), some by "is for" (e.g. "cow" for C, "ha(wk)" for H. He knows the numbers 0 - 10, 12, and 20. Some are clear ("two, "ten") and some, such as seven and twenty, you have to know what he's saying, but it's consistent.
Not only does he know the pieces, and where they go, but he's also cognizent of what's missing, and worries until it is found. Before dinner, and again at night, we help Joseph pick up the toys. The other day he and I were working on the number puzzle, and Stephan the alphabet. Stephan remarked to himself, "where's the Z?", finally found it (did I mention that the pieces get thrown around the room?), and put the puzzle where it belongs without announcing his success. After Joseph and I finished the number puzzle, he went to Stephan and asked, "Zee?", content only when shown that it was in its proper place in the puzzle.
Just this morning Janet discovered that he also knows how to count, at least to six: she was fixing dinner (which happens at noon here, because Daddy bikes home from work to join us), and Joseph was helping by handing her potatoes to weigh. He handed her the first one, and announced, "one." Then the second, followed by "two." Then "three, four, five, six." At the seventh and last potato, he hesitated, having forgotten; seven is one of his newest number words. Our apologies to Glenn Doman and to the Right Start Math folks, who want children to lean quantities before they learn counting, but it was his idea. We had no idea he could do it. Then again, maybe he knows more quantities than we think. He loves his daddy's Dots book.

Joseph is also very good at putting the pieces in their places on the puzzle board. I remarked that he went very quickly from the "large knob puzzles" to being able to do this much harder variety, and Janet said, "Oh, he still can't do the large knob puzzles! He gets frustrated quickly and gives up." Which only confirms that children will work patiently and persistently to learn what they really love!
Oh, I suppose I should mention that he's learning the letters and numbers in three languages.... I think he's more fluent with English at this point, though really, how would I know?
Joy for a grandmother's heart, especially a grandmother whose college major was math. :)