As you might have guessed by the blog silence, we've been a little busy around here. We have Baby News at last!
Vivienne Linda Stücklin
Born at home in Emmen, Switzerland
Saturday, January 21, 2012 at 12:26 p.m.
Length: 53cm (21in)
Weight: 3840g (8lbs 7oz)
I would never say that anyone's labor was easy, and this certainly wasn't, but it was a WHOLE lot better than with Joseph. Consequently, Janet is recovering quickly and enjoying little Vivienne immensely. So, you might observe, is Grandma.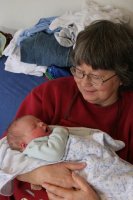 (Click photo to enlarge.)
Vivienne was only a few days late, but the wait seemed long because Joseph had been a week early. Once Janet was sure she was in labor, Stephan's parents joined us to keep Joseph entertained. He did get to see his sister's birth, though I'm sure he won't remember it in years to come.
Ten years ago, I had no idea why anyone would want a home birth. Now it's glaringly obvious. That could be a whole nother post. For now, suffice it to say that hospitals and doctors are great when it comes to emergencies and high-risk circumstances, but haven't a clue when it comes to normal childbirth. What a difference an experienced midwife makes—and how wonderful to give birth in (and to be born into) one's own, familiar nest.
Joseph had a rough first day (and night—hence so did the parents), bursting into heart-rending tears every time Vivienne cried. But Janet learned to calm him by enlisting his help in calming his sister, such as patting her gently. By the next day he seemed to have accepted the idea that her cries were a form of communication. He loves to give her kisses, and sometimes even suggests to Janet that "Baby" needs mommy milk.
Some of the old anxiety returned today when the doctor came and Vivienne cried more than usual (more accurately, her cry was a bit different from usual). I think tomorrow she is getting her first heel stick; remembering how his cousin Jonathan curled up in a ball and sobbed, "I didn't want them to cut my baby's heel," I think we may try to distract him in another room when that happens.
Vivienne herself is doing great, working on advanced degrees in eating, sleeping, eliminating, and charming the world.
But for the rest of us, sleep is still a bit on the short side, and I am up 'way too late working on this post. So, enough for now.
Welcome to our world, Vivienne! Congratulations to the family, and good night to all!