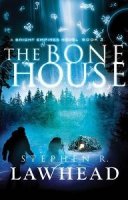 The Bone House by Stephen Lawhead (Thomas Nelson, 2011)

The second book in Stephen Lawhead's Bright Empires series took me a lot less time to read than the first, and not just because it's almost 50 pages shorter. I took both the book and the audio version out of the library, and supplemented listening on my daily walks with reading in bits and snatches at home. Despite a full schedule, I devoured the book in four days. It turns out I read a whole lot faster than a read-aloud pace. Much, much faster. However, I read for content, not beauty, not the first time through. For really good books, like The Lord of the Rings, I soak in the beauty through multiple re-readings.
The audiobook forces me to pay attention to the descriptions as well as the story, and I enjoy a much more vivid picture of the setting, characters, and events. It's almost, but not quite, enough to make me want to listen to the entire book, since I imbibed most of this book via the printed page. I think I spent more actual time listening, but covered many more pages by reading.
The Bone House is if anything more unbelievable than its predecessor, The Skin Map. The world—multiverse—of Lawhead's imagination just gets stranger and stranger. But it's also getting more beautiful (yes, I managed to pick up some of the beauty on the fly) and more interesting. There's also less of the "testosterone factor" that annoyed me in the first book: more attention to brains and character than to brawn and beauty.
The only problem with having finished The Bone House so quickly is that the next book in the series, The Spirit Well, isn't scheduled to be released until September.