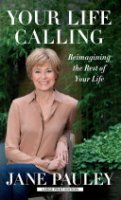 Your Life Calling: Reimagining the Rest of Your Life by Jane Pauley (Simon & Schuster, 2014)
This is why we have friends. I would never have picked out this book to read. For one thing, I tend to avoid books by or about celebrities. For another, I in no way can identify with people who, when their children go to school, or leave home, or when they turn 50, or retire, say, "What on earth am I going to do with the rest of my life?" I don't need a new life; I have enough planned in the one I have now to see me through more productive years than I can possibly have left.
But a friend highly recommended Pauley's book, and I'll admit that it kept my interest even though I didn't buy into its focus. The Penzey's fans among my readers will best understand the effect that Your Life Calling had on me. It was very much like reading a Penzey's catalog, where I find myself repeatedly annoyed by the self-aggrandizement, the leftist slant, and the in-your-face distain for several of my strongly-held principles—yet I keep reading, because the stories are interesting and inspiring.
Pauley premise is that our generation is the first to have the long lifespan and the leisure to "reinvent" ourselves, possibly several times as we go through life. Today's young people are already doing it ("what we call reinvention is just 'the churn' for them"). In fact, for them it may be more of a necessity, given the pace at which technology (and thus the job market) is now changing. (The last sentence is my analysis, not Pauley's.) But it's new for us.
You may be surprised to know that people over fifty-five represent the largest age group of owners of new business start-ups. At an age when our own parents and grandparents expected to wind things down, people are getting a second wind.

The Stanford Longevity expert, Laura Carstensen, notes that withour new vitality come some pretty big questions. She says, "Those of us living today have been handed a remarkable gift with no strings attached—an extra thirty years of life for the average person. Now that gift is forcing us to answer a uniquely twenty-first-century question—what are we going to do with our supersized lives?"
Permit me an exasperated wail at yet another expert who misunderstands the term "life expectancy." But aside from that, it is true that our generation finds itself thinking in terms of second, often radically different, careers more than previous generations. One only needs to listen to someone of my parents' generation talk to realize that the men, at least, defined themselves very much by their careers. Of my generation this is less true, mostly I think because we were betrayed by the "be loyal to your company and your company will be loyal to you" compact. What is "me" is not my employment, and therefore I am free to move on to something entirely different.
That I get, as evidenced by my need to elaborate on it. I also appreciated Pauley's description of Imposter Syndrome:
I'll never forget how [David Letterman] described his television career. He said, "It's like robbing 7-Elevens. The money's good, but sooner or later you know you're gonna get caught." This was a perfect depiction of a popular psychological term—that wouldn't be coined for another two years—"imposter syndrome." There was a lot of that going around.
Apparently a lot of people feel that way. The most amazing choir I've even been in was the work of an extremely gifted and experienced musician who couldn't get over the feeling of having to prove that she was not an "imposter." I've met great teachers who deny that they do anything more than keep one step ahead of their students. I myself received A after A after A in school without ever being convinced I understood any of the material I was supposedly learning. I think there's more to it than Pauley's suggestion that maybe we're all in the wrong career, but the following point is certainly true:
You've got to have the goods to get that promotion, to get through medical school, to be the successful job applicant. But a successful career isn't necessarily a happy one. And a proficiency is not the same as a passion.
Most young people I know would say amen to this one, a quote from Paul Giannone, a successful Information Technology professional suffering from Imposter Syndrome, who reinvented himself as a New York City pizza restaurateur:
I just thought that you go out, you pick a career, you work, eventually you build up a retirement fund, you retire, and you go do something you like. I wish they had told me that you need to find something that you like and do it right now for the rest of your life, because that's what everybody should do—find your passion and do it because you're gonna be good at it."
Pauley adds, "Sometimes it takes the better part of a lifetime to find out what your passion is, but in my observation, if you do, it might be the best part of your life."
Later, Pauley says of Paul,
If you're ever in Brooklyn, drop by Paulie Gee's for some great pizza! Paul Giannone is always there. I asked him how many days a week he worked. "Seven," he said. Then quickly blurted out, "No! I work no days a week. I haven't worked in over two years. I really haven't. When I come in here I'm not working."
Your Life Calling is full of stories like this, of people who have taken on second, often radically different careers. I find in the collection and interesting and contradictory charitable selfishness, or selfish charity. Seeking more meaningful use of their time, several of the "reinventees" went into fields, from teaching to social work to drilling wells in Africa, where they could have a direct, positive impact on others. At the same time, there's a disturbing thread of hyper-individualism in most of the stories: My children are out of the house, so it's my turn; I'm going to make my own life. I've just been divorced; now I'll do what I want to do. Worse still: My husband won't accommodate my new life, so I'll ditch my family and go my own way. Not all the stories are like this—one woman's reimagining was going into business with her son. But I found so many of the stories sad, even as they were inspiring. There's too much self-centeredness, too much divorce, too much of the attitude that you have a small number of children and get them quickly out of the way so you can live your real life. As if family responsibilities end there. Haven't these people heard of grandchildren? :)
Still, as I said the stories are both interesting and inspirational. I'm grateful for my friend's recommendation. And I've tried not to hold against the author the fact that the otherwise-rational-sounding husband Garry she keeps talking about is actually Garry Trudeau, creator of the comic strip Doonesbury.