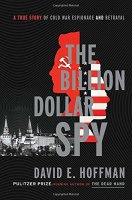 The Billion Dollar Spy by David E. Hoffman (Doubleday, 2015)
This is not a book I would necessarily have picked up myself, but Porter thought so highly of it that I couldn't resist.
He was right.
There are many, many reasons why the Berlin Wall finally came down and the Cold War ended, as varied as President Reagan's firm stand, internal weaknesses created by Communism, and the influence of the Catholic Church in Poland. The Billion Dollar Spy reveals yet another: Adolf Tolkachev, a Russian engineer who fought the system he loathed with the best weapon he could: giving critical information on Soviet military technology to the country best able to make use of it: the United States. This knowledge was beyond value.
Not that we didn't bungle again and again his attempts to help us. The incompetence of the CIA at certain times in history and its unfathomable paralysis at others had me cringing as I read. And in the end Tolkachev and his mission were brought down by a disgruntled former CIA employee who betrayed him to the KGB.
In the meantime, his work exceeded the CIA's wildest expectations, and the story as Hoffman tells it makes for great reading.