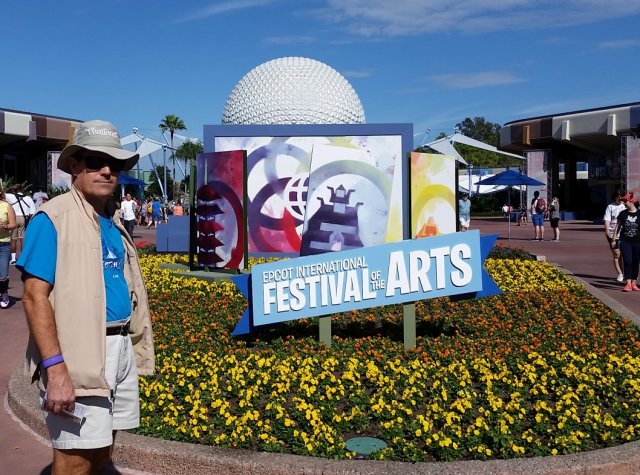 EPCOT has a new party: The International Festival of the Arts. We checked it out, and found it almost as much fun as their Food and Wine Festival. There was art, mostly with a Disney theme, and music, and other features, but our interest lay mainly in the culinary arts.
I do remember one painter, probably because his name was Noah. "Noah Fine Art" is his business, and I remarked that it's pretty amazing to be known only by your first name. When we came home, I did a Google search simply on "Noah art"—and his website was the first hit.
But as I said, food was our main interest. There was much more we could have eaten, but even sharing the already-small portions doesn't leave room (or budget) for everything.
From Pop Eats!: Sous Vide Venison with Butternut Squash Purée, Pomegranate Reduction, Pickled Turnip, and Juniper Berry Powder, followed by Almond Frangipane Cake layered with Raspberry Jam and Chocolate. The flavors worked together in an amazing way, and the venison was the best I've ever tasted. (Porter liked the venison he ate in New Zealand better, but I did not have any on that occasion.) The cake was even better than it looks. (As usual, you can click on the images for a bigger picture.)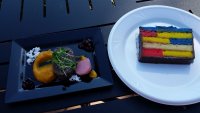 From The Refreshment Cool Post: Chilled Shrimp, Quinoa, Layered Vegetables, Spiced Yogurt, and Red Pepper Coulis. I'm sorry I forgot to take a picture of this, because the presentation was totally not what I expected, and the taste was really good.
From The Painter's Palate: Trio of Savory Croissant Doughnuts—Whipped Herb Cream Cheese with Sea Salt, Chicken Mousse with Fresh Herbs & Everything Bagel Seasoning, and Spicy Tuna with Sriracha Mayonnaise and Sesame Seeds. These were good—the Spicy Tuna winning hands down—but messy to eat. I missed photographing this one, too; fortunately the picture was available in Disney's promotional materials.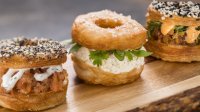 From The Artist's Table: Callebaut Belgian Sipping Chocolate Flight: White, Milk, Dark. As you can see, I forgot to take this picture till we were well into this incredibly delicious trio. Even the white chocolate (my least favorite) was wonderful, the dark was the best, and the milk had caramel notes that made it spectacular.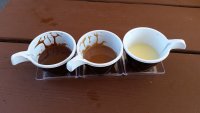 It was a hot day (in the 80's and sunny) so a repeat-repeat visit to Japan for shaved ice was in order after we had put some space (and food) between it and the chocolate. This time we tried the rainbow flavor; it was good but tangerine is still the best, and it's still worth paying the extra buck to get the sweet milk topping.
Finally, and this has nothing to do with food but everything to do with amusing our grandchildren, or more likely their mothers. This was a wall decoration at Italy; I call it La Figmenta.