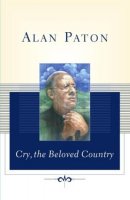 Cry, the Beloved Country by Alan Paton (Scribner, 2003, originally published 1948)
I resisted reading this classic book for a long time; it's doubtful I would have read it this month were it not for the looming deadline for 95 by 65 goal #63. I knew nothing against Cry, the Beloved Country other than that it was something people read in schools, and that's enough to condemn it in my eyes. But the greatest reason is that it was just one out of hundreds of books in my life crying out to be read.
Cry, the Beloved Country is well worth reading and far, far better than anything school ever offered me. In truth, however, I'm not sure I was ready for it, even in high school. I didn't have enough experience, and certainly didn't have enough knowledge. In my classes, the history of South Africa hardly got beyond "Isn't apartheid terrible?"
Even more significant, however, is that it would be horrible to sit in a classroom and have this beautiful book picked apart. It is a book to be experienced, not analyzed, at least not on the first reading. It is a book to be pondered, to be savored, to be thought about with the heart. It is a beautiful book filled with grief and suffering and despair and hope and redemption.
It may even be a book my 13-year-old grandson could benefit from, despite my thoughts that I wasn't ready for it in high school. I don't know. It might be a gateway to further interest in Africa, a book to come back to again later. It talks about bad things, but in the way of books written in the 1940's, they are treated sensitively and are not at all "adult" meaning prurient or "graphic" meaning lurid.
Beyond his clear love of his native land, his sense of justice, and his fear for South Africa's future, Paton's style is a delight to read. It's different, but gives the feel of a foreign language and culture while remaining completely intelligible.
No quotations this time. Read the whole book. :)