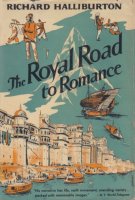 The Royal Road to Romance by Richard Halliburton (Garden City Publishing, 1925)
Richard Halliburton was the Rick Steves of the early 20th century—with a few minor differences, such as not travelling with a camera crew, constantly putting himself into physical danger, and showing a marked disdain for societal conventions such as paying train fares.
Halliburton graduated from Princeton in 1921, the year my father was born. Scorning a more conventional life, he and a friend signed on to a ship, as ordinary seamen, and worked their way to Europe. The Royal Road to Romance is an enjoyable narrative of Halliburton's adventures, with and without companions, tramping all over Europe; slogging through the jungles of Southeast Asia; venturing into forbidden Afghanistan; climbing Mt. Fuji, solo, in the dead of winter; supporting himself by great thrift, petty theft, and articles occasionally mailed home to magazines eager to appease the American appetite for travel stories.
This is travel, and this is adventure, but it's also chock-full of history and geography, made all the more interesting because it was written when the world's geography and politics were vastly different from today's. Imagine, too, a world in which Halliburton managed to pay homage to many of his favorite sites, now tourist meccas, from the fortifications on Gibraltar to the Taj Mahal to Angkor Wat to the Great Pyramid of Cheops—up close and personal, for hours, entirely in solitude.
The Royal Road to Romance came to my bookshelves from my father's library, along with two other Halliburton books, The Glorious Adventure and New Worlds to Conquer. I'm looking forward to more of his well-written and fascinating stories.
Halliburton's life is not one to be emulated—he died at 39 attempting to cross the Pacific in a Chinese junk—and his stories have a light-hearted amorality about them that can be a little disconcerting, as can the racial attitudes and language of the time. But understood in context, I think this would be a good book for older grandchildren—as long as they don't develop a taste for schwarzfahren.
---
The least commonplace of the routes [from Peking to Japan], in fact, the forbidden, abandoned route for tourists, was through northern Manchuria to Harbin, thence to Vladivostok by the Trans-Siberian and across the Japanese Sea. With my tiger's tooth no longer protecting me, with an arctic winter at hand, with a Chinese bandit army in control of one-half the railroad and the officious Bolsheviks the other, only a determined seeker after novelty would have cared to travel this route. Its disadvantages were so numerous, the possibility of being delayed and harassed so great, my enthusiasm was only half-hearted when I began to make practical investigation. However, when the American and Bolshevik authorities refused point-blank to give me a passport, my ardor for Siberia—heretofore a very negligible quantity—burst forth in a holy flame, and with a determination fired by hatred of this injustice I vowed that now I would go, and defied all the officials in Asia to stop me.