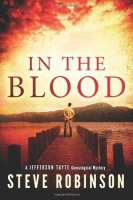 In the Blood: A Jefferson Tayte Genealogical Mystery by Steve Robinson (Thomas & Mercer, 2014)
This was another find from my book-loving, book-giving sister-in-law, who also shares my love of genealogy. I am now hooked, and was delighted/dismayed to discover five more books in the series waiting to suck up my reading time. I immediately ordered the next two from our library.
In the Blood is not profound reading, there's a small amount of bad language, and a little too much violence for my taste. By now you know I'm quite sensitive to such things, especially since I read nearly everything with an eye toward its appropriateness for sharing with grandchildren. But in this I find it only a minor problem, easily outweighed by the enjoyment I found in the story. Apparently a little character-appropriate bad language in a novel doesn't bother me nearly as much as the same words in a serious, non-fiction book.
Would I be so anxious to read the remaining books in the series if it weren't for the genealogical angle? It's hard to say; although you don't need to know anything about genealogy to appreciate the mystery, it certainly made it more enjoyable for me. And having recently completed a Great Courses series on Mystery and Suspense Fiction, I know that In the Blood is much more my style than most of what's out there.