Warning: This is an unabashed Grandma-brag—but it has a generally-applicable point as well.
One of my recurrent themes here is the truth that children can do and be so much more than we usually expect of them, from toddlers to teenagers. While our thirteen-year-old grandson's accomplishment is not on a par with commanding a captured naval vessel at the age of 12, nor with captaining a trading ship at 19, I'm quite proud of him—and his parents.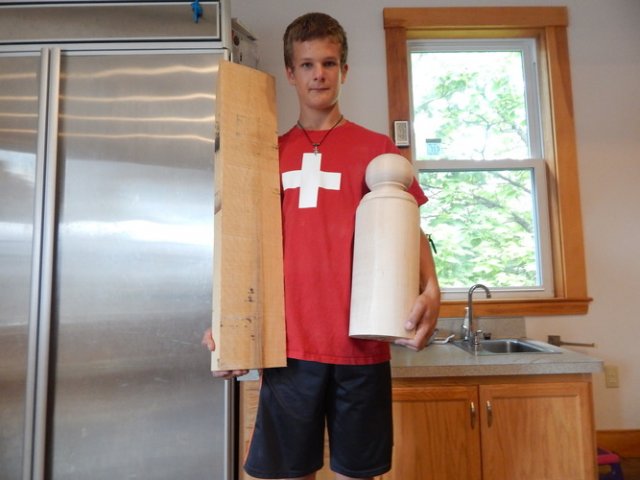 In his right hand is an oak board, similar to that from which he made the object in his left hand, which, when painted, will replace the barber-pole coat rack at a local barbershop.
When he approached the barber, who had advertised for someone to do the work, it took guts and skill to negotiate the commission, not to mention to persuade the barber that a young teen could do the job.
It was an ambitious project, and required working with some heavy-duty power tools—radial arm saw, lathe, planer, and jointer—knowing not only their operation, but proper safety equipment and procedures as well. It was a time-consuming job that required patience, persistence, and focus. That's pretty impressive at an age when many consider him too young to fly unaccompanied on a commercial airplane, to own a knife, or even to stay home alone.
He can cook full meals, too, and I don't mean just heating things up in the microwave.
Is he some sort of genius? Of course he is, he's my grandchild!
But seriously, what distinguishes him the most from many young people is opportunity. His parents didn't just turn him loose among those dangerous tools, unprepared. He's been helping in the workshop (and the kitchen) since he was a toddler. So have his siblings. The kind of training that produces skills of this sort requires patience and persistence on the part of parents, too—and even more so, a willingness to stand up for the right of children to fly in a society determined to clip their wings.