I don't think of myself as a conformist. I mean, really, can you be of my generation and not like rock 'n' roll? I'm afraid I've always taken pride in being different from the general culture.
Apparently I'm slipping.
Lo and behold, my hands-down, absolute, nothing else is even close, favorite fast-food restaurant, Chick-fil-A, is the most popular fast-food restaurant in the country. Here's the state-by-state breakdown. (Click to enlarge.)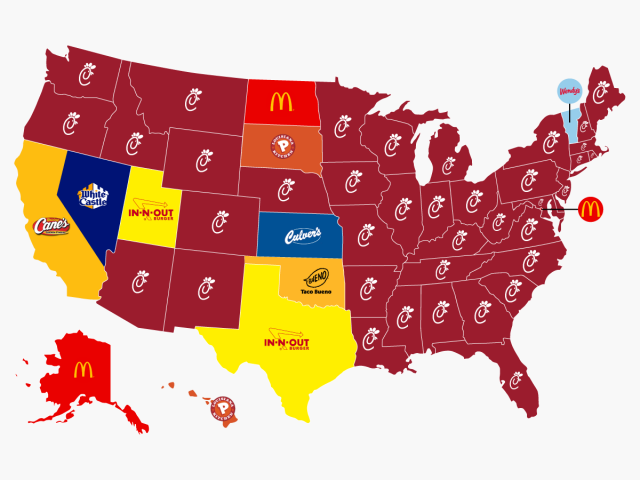 I suppose McDonalds, which won only Alaska, North Dakota, and Washington, D.C., could argue with the methodology, since they have so many restaurants.
For the study, we looked at which chains received the most visits on average in every state based on the total number of visits to each chain divided by the number of locations in that state.
But even McDonald's can't argue with these numbers.
Chick-fil-A dominates, which isn't surprising — the fried-chicken chain generates more revenue per restaurant than any other fast-food chain in the US.
I guess part of being independent of popular opinion means accepting the situation when other people agree with me. :)