On an out-of-the-way street in a suburb of Lucerne, Switzerland, hides a small, by-invitation-only restaurant called Chez Stücklin. It was there that we were privileged to celebrate our 43rd wedding anniversary.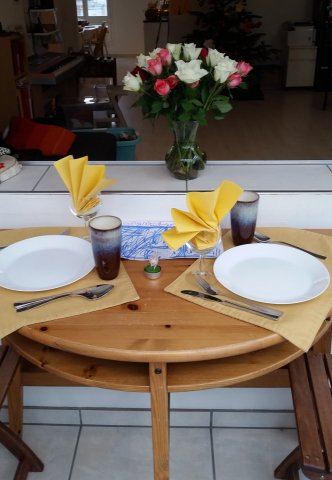 Well-dressed, cheerful greeters met us at the entrance and led us to our private table. This was located in the Sun Room, which was on this day a misnomer, as the sunshine was primarily of the liquid variety.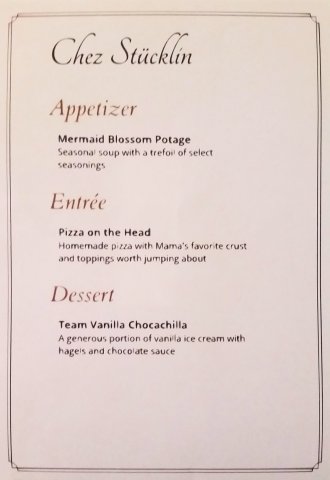 No matter; the room was well heated and we were offered warm slippers to protect our feet. Note the blue, personalized place card, the beautiful roses, the amusing pig-shaped candle, and the fancy-folded napkins.
The menu at Chez Stücklin is fixed. Here is what was served on our special night. (Click on any image to enlarge.)
The elegant, semi-refined wait staff lit our candle and took our drink orders. They were attentive to our drink needs throughout the meal—to me, the hallmark of a great restaurant.
Soon they brought in the first course: Mermaid Blossom Potage, "seasonal soup with a trefoil of select seasonings." It was delicious, and reminded me of the curried pumpkin soup we traditionally enjoy at Thanksgiving time, but with lighter seasoning. During the soup course, the youngest kitchen apprentice came by with a bowl of potato chips, solemnly handing us each a single chip.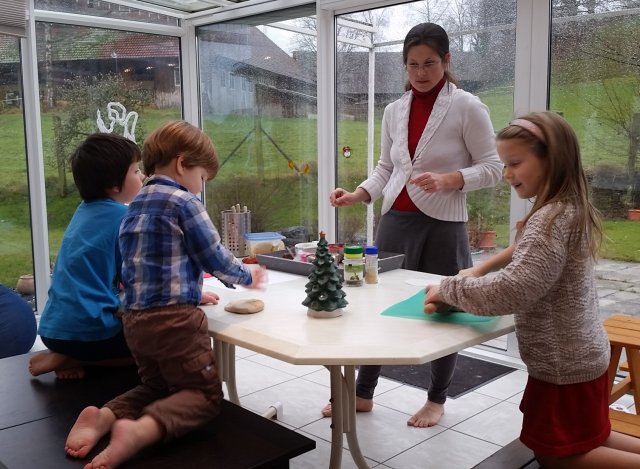 The main course, Pizza on the Head ("homemade pizza with Mama's favorite crust and toppings worth jumping about"), was prepared tableside, as we watched. The dough had been previously prepared, but the staff rolled it out to perfection, one of the crusts even being in a "hidden Mickey" form in honor of our home town. They then added sauce, cheese, and a personalized assortment of toppings.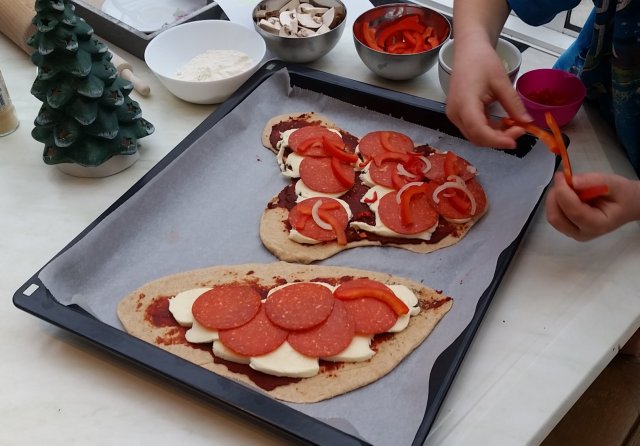 While we waited for our pizzas to bake, we enjoyed the restaurant's varied entertainment. Seldom have I been so pleased with the volume of restaurant music, which is nearly always too loud. Here, it was pleasant to listen to and did not interfere with normal conversation. If the quality of the performances varied somewhat, there is no doubt that the cuteness factor was as high as I have ever experienced.
I regret that a few of the acts are missing from the following montage. The restaurant has a policy that discourages videotaping of the older staff, so you will not get to see some delightful piano and harp performances. There was also an incredible duet between the head waiter on keyboard and Waitress V on tin whistle. I'm told that it was a completely unrehearsed, impromptu performance, but Waitress V was so sensitive to the music that she picked up the rhythm and even some of the melody simply through listening to the piano. I'm really sorry not to have filmed that—Waitress V would love to have had it recorded—but by the time I realized what was happening, I was simply too entranced to pull out my camera. We also missed a comedy routine I'm told was hilarious, but apparently the comedian was overcome by a sudden attack of shyness.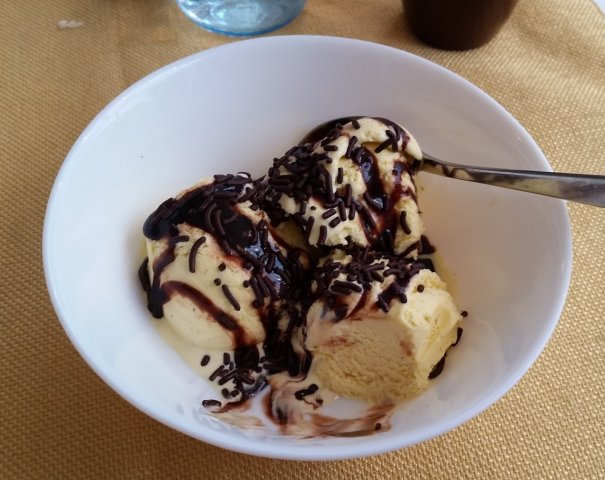 My pizza was all I could have hoped for. I could easily have eaten it all, but accepted the suggestion of a take-home box because I knew that dessert was part of the anniversary dining package. Team Vanilla Chocachilla, "a generous portion of vanilla ice cream with hagels and chocolate sauce," was the perfect finish to a perfect anniversary dinner.
Chez Stücklin, Lucerne's hidden gem, receives my highest possible, five-star rating.