For those of you who think I'm just a classical music snob....
I don't remember where I came across this beautiful country song—odds are it was somewhere on Facebook—and I hesitate to share it, since embedded YouTube videos are no longer working for me. But you can click on the image to hear John David Anderson's haunting Seminole Wind.
It's a song to tear at the heart of a Floridian, even a semi-native such as I. In addition to all the other emotions it evokes, it takes me back to the days when the YMCA wasn't ashamed to call its Parent-Child programs "Indian Guides" and "Indian Princesses." Now it's "Adventure Guides" and the Native American connection is lost. Back then, the Florida Indians—who at that time preferred "Indian" to "Native American"—welcomed the Y tribes to their own pow-wows. I can still hear the drums, the voices, and the prayers, and taste the fry bread....
Not to mention that a love of wilderness areas was bred into my bones, whether New York's Adirondacks or Florida's wetlands, scrubs, and hammocks.
And I'm a sucker for Dorian mode.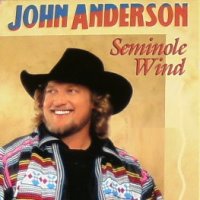 Men would search for wealth untold
They'd dig for silver and for gold
And leave the empty holes
And way down south in the Everglades
Where the black water rolls and the saw grass waves
The eagles fly and the otters play
In the land of the Seminole
So blow, blow Seminole wind
Blow like you're never gonna blow again
I'm callin' to you like a long-lost friend
But I know who you are
And blow, blow from the Okeechobee
All the way up to Micanopy
Blow across the home of the Seminole
The alligator and the gar
Progress came and took its toll
And in the name of flood control
They made their plans and they drained the land
Now the Glades are goin' dry
And the last time I walked in the swamp
I stood up on a cyprus stump
I listened close and I heard the ghost
Of Oseola cry
So blow, blow Seminole wind
Blow like you're never gonna blow again
I'm callin' to you like a long-lost friend
But I know who you are
And blow, blow from the Okeechobee
All the way up to Micanopy
Blow across the home of the Seminole
The alligator and the gar
Songwriter: John David Anderson
Seminole Wind lyrics © Universal Music Publishing Group