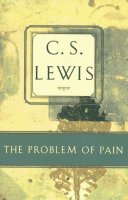 The Problem of Pain by C. S. Lewis (Simon & Schuster, 1986; originally published 1940)
This is not a review, but a collection to replace the sticky notes I had affixed to this book as I re-read it recently. With some comments. The emphasis is my own.
Chapter Three: Divine Goodness
The association of ... man and dog is primarily for the man's sake: he tames the dog primarily that he may love it, not that it may love him, and that it may serve him, not that he may serve it. Yet at the same time, the dog's interests are not sacrificed to the man's. The one end (that he may love it) cannot be fully attained unless it also, in its fashion, loves him, nor can it serve him unless he, in a different fashion, serves it. Now just because the dog is by human standards one of the "best" of irrational creatures, and a proper object for a man to love—of course with that degree and kind of love which is proper to such an object, and not with silly anthropomorphic exaggerations—man interferes with the dog and makes it more lovable than it was in mere nature. In its state of nature it has a smell, and habits, which frustrate man's love: he washes it, house-trains it, teaches it not to steal, and is so enabled to love it completely. To the puppy the whole proceeding would seem, if it were a theologian, to cast grave doubts on the "goodness" of man: but the full-grown and full-trained dog, larger, healthier, and longer-lived than the wild dog, and admitted, as it were by Grace, to a whole world of affections, loyalties, interests, and comforts entirely beyond its animal destiny, would have no such doubts.
The man (I am speaking throughout of the good man) takes all these pains with the dog, and give all these pains to the dog, only because it is an animal high in the scale—because it is so nearly lovable that it is worth his while to make it fully lovable. He does not house-train the earwig or give baths to centipedes. We may wish, indeed, that we were of so little account to God that He left us alone to follow our natural impulses—that He would give over trying to train us into something so unlike our natural selves: but ... we are asking not for more Love, but for less.
Chapter Four: Human Wickedness
This chapter will have been misunderstood if anyone describes it as a reinstatement of the doctrine of Total Depravity. I disbelieve that doctrine, partly on the logical ground that if our depravity were total we should not know ourselves to be depraved, and party because experience shows us much goodness in human nature. Nor am I recommending universal gloom. The emotion of shame has been valued not as an emotion but because of the insight to which it leads. I think that insight should be permanent in each man's mind: but whether the painful emotions that attend it should also be encouraged, is a technical problem of spiritual direction on which, as a layman, I have little call to speak. My own idea, for what it is worth, is that all sadness which is not either arising from the repentance of a concrete sin and hastening towards concrete amendment or restitution, or else arising from pity and hastening to active assistance, is simply bad; and I think we all sin by needlessly disobeying the apostolic injunction to "rejoice" as much as by anything else. Humility, after the first shock, is a cheerful virtue: it is the high-minded unbeliever, desperately trying in the teeth of repeated disillusions to retain his "faith in human nature" who is really sad.
It's important to realize that when Lewis talks about sadness as being bad, he's not referring to the kind of sorrow, for example, that we feel when someone we love dies. The chapter is about sin and human wickedness.
Chapter Seven: Human Pain, continued
We must never make the problem of pain worse than it is by vague talk, about the "unimaginable sum of human misery." Suppose that I have a toothache of intensity x: and suppose that you, who are seated beside me, also begin to have a toothache of intensity x. You may, if you choose, say that the total amount of pain in the room is now 2x. But you must remember that no one is suffering 2x: search all time and all space and you will not find that composite pain in anyone's consciousness. There is no such thing as a sum of suffering, for no one suffers it. When we have reached the maximum that a single person can suffer, we have, no doubt, reached something very horrible, but we have reached all the suffering there ever can be in the universe. The addition of a million fellow-sufferers adds no more pain.
I'm not sure I buy this argument completely. I'm quite certain God knows (and feels) the fullness of that "composite pain"—though if there's a human limit, Jesus as man could not have experienced more than that. Lewis is speaking of human suffering so maybe what Omniscience knows doesn't count. And I do believe that to some extent pain is additive (or multiplicative): If I am sufferning x, and my child is suffering x, if we remain ignorant of each other's suffering, then we are indeed each only experiencing x. But if we know, if we can see, if we can hear each other's agony, then our own pain becomes greater: 1.5x, 2x, 10x, whatever—but definitely greater. This is why the media's fascination with reporting tragedies in all their gory details, over and over, is a problem. The graphic portrayal of even false suffering (think movies, TV shows, and video games) affects us badly. It might be worthwhile if it resulted in an outpouring of effective efforts to address the needs represented, but I believe the net effect is actually an increase in the natural responses to viewing suffering we cannot alleviate: depression and callousness.
Chapter 10: Heaven
Each of the redeemed shall forever know and praise some one aspect of the divine beauty better than any other creature can. Why else were individuals created, but that God, loving all infinitely, should love each differently? And this difference, so far from impairing, floods with meaning the love of all the blessed creatures for one another, the communion of the saints. If all experienced God in the same way and returned Him an identical worship, the song of the Church triumphant would have no symphony, it would be like an orchestra in which all the instruments played the same note. Aristotle has told us that a city is a unity of unlikes, and St. Paul that a body is a unity of different members. Heaven is a city, and a Body, because the blessed remain eternally different: a society, because each has something to tell all the others—fresh and ever fresh news of the "My God" whom each finds in Him whom all praise as "Our God."
Union exists only between distincts; and, perhaps, from this point of view, we catch a momentary glimpse of the meaning of all things. Pantheism is a creed not so much false as hopelessly behind the times. Once, before creation, it would have been true to say that everything was God. But God created: He caused things to be other than Himself that, being distinct, they might learn to love Him, and achieve union instead of mere sameness. ... Even within the Holy One Himself, it is not sufficient that the Word should be God, it must also be with God. The Father eternally begets the Son and the Holy Ghost proceeds: deity introduces distinction within itself so that the union of reciprocal loves may transcend mere arithmetical unity.