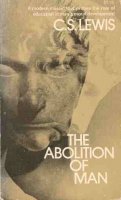 The Abolition of Man: or Reflections on Education with Special Reference to the Teaching of English in the Upper Forms of Schools by C. S. Lewis (Macmillan, 1978; originally published 1947)
Don't be put off by the occasional dated and UK-based references: this is very important material, definitely still applicable today. It is a good book to read either before or after That Hideous Strength, the third book in Lewis's space trilogy, in which the same ideas appear in the form of fiction. You must also get over Lewis's use of the term Tao. You can see why he uses it, but the meaning is not exactly the same as in Chinese philosophy.
As the review is short, so the quotations are few. Lewis is not easily reduced to sound bites. The bolded emphasis is mine, though I'm not sure it's a good idea, because it separates them from their context, which is just as important.
From Chapter 1, "Men Without Chests"
I doubt whether [the authors of a particular English literature textbook] really planned, under cover of teaching English, to propagate their philosophy. I think they have slipped into it for the following reasons. In the first place, literary criticism is difficult, and what they actually do is very much easier. To explain why a bad treatment of some basic human emotion is bad literature is, if we exclude all question-begging attacks on the emotion itself, a very hard thing to do. ... To "debunk" the emotion on the basis of a commonplace rationalism, is within almost anyone's capacity. In the second place, I think [they] may have honestly misunderstood the pressing educational need of the moment. They see the world around them swayed by emotional propaganda ... and they conclude that the best thing they can do is to fortify the minds of the young people against emotion. My own experience as a teacher tells an opposite tale. ... The right defence against false sentiments is to inculcate just sentiments. By starving the sensibility of our pupils we only make them easier prey to the propagandist when he comes. For famished nature will be avenged and a hard heart is no infallible protection against a soft head.
Until quite modern times all teachers and even all men believed the universe to be such that certain emotional reactions on our part could be either congruous or incongruous to it—believed, in fact, that objects did not merely receive, but could merit, our approval or disapproval, our reverence, or our contempt.
Where the old [education] initiated, the new merely "conditions." The old dealt with its pupils as grown birds deal with young birds when they teach them to fly: the new deals with them more as the poultry-keeper deals with young birds—making them thus or thus for purposes of which the birds know nothing. In a word, the old was a kind of propagation—men transmitting manhood to men: the new is merely propaganda.
It still remains true that no justification of virtue will enable a man to be virtuous. Without the aid of trained emotions the intellect is powerless against the animal organism. I had sooner play cards against a man who was quite sceptical about ethics, but bred to believe that "a gentleman does not cheat," than against an irreproachable moral philosopher who had been brought up among sharpers. ... Reason in man must rule the mere appetites by means of the "spirited element." The head rules the belly through the chest—the seat ... of Magnanimity, of emotions organized by trained habit into stable sentiments. The Chest—Magnanimity—Sentiment—these are the indispensable liaison officers between cerebral man and visceral man. It may even be said that it is by this middle element that man is man: for by his intellect he is mere spirit and by his appetite mere animal. The operation of [this textbook] and its kind is to produce what may be called Men without Chests.
And all this time...we continue to clamour for those very qualities we are rendering impossible. In a sort of ghastly simplicity we remove the organ and demand the function. We make men without chests and expect of them virtue and enterprise. We laugh at honour and are shocked to find traitors in our midst. We castrate and bid the geldings be fruitful.
From Chapter 2, "The Way"
[The authors of this textbook] will be found to hold, with complete uncritical dogmatism, the whole system of values which happened to be in vogue among moderately educated young men of the professional classes during the period between the two wars [World War I and World War II]. Their scepticism about values is on the surface: it is for use on other people's values: about the values current in their own set they are not nearly sceptical enough. And this phenomenon is very usual. A great many of those tho "debunk" traditional or (as they would say) "sentimental"values have in the background values of their own which they believe to be immune from the debunking process.
This thing which I have for convenience called the Tao, and which others may call Natural Law or Traditional Morality or the First Principles of Practical Reason or the First Platitudes, is not one among a series of possible systems of value. It is the sole source of all value judgements. If it is rejected, all value is rejected. If any value is retained, it is retained. The effort to refute it and raise a new system of value in its place is self-contradictory. There never has been, and never will be, a radically new judgement of value in the history of the world. What purport to be new systems or (as they now call them) "ideologies," all consist of fragments from the Tao itself, arbitrarily wrenched from their context in the whole and then swollen to madness in their isolation, yet still owing to the Tao and to it alone such validity as they possess. If my duty to my parents is a superstition, then so is my duty to posterity. If justice is a superstition, then so is my duty to my country or my race. If the pursuit of scientific knowledge is a real value, then so is conjugal fidelity. The rebellion of new ideologies against the Tao is a rebellion of the branches against the tree: if the rebels could succeed they would find that they had destroyed themselves. The human mind has no more power of inventing a new value than of imagining a new primary colour, or, indeed, of creating a new sun and a new sky for it to move in.
From Chapter 3, "The Abolition of Man"
In what sense is man the possessor of increasing power over Nature?

Let us consider three typical examples: the aeroplane, the wireless, and the contraceptive. In a civilized community, in peace-time, anyone who can pay for them may use these things. But it cannot strictly be said that when he does so he is exercising his own proper or individual power over Nature. If I pay you to carry me, I am not therefore myself a strong man. Any or all of the three things I have mentioned can be withheld from some men by other men—by those who sell, or those who allow the sale, or those who own the sources of production, or those who make the goods. What we call Man's power is, in reality, a power possessed by some men which they may, or may not, allow other men to profit by. Again, as regards the powers manifested in the aeroplane or the wireless, Man is as much the patient or subject as the possessor, since he is the target both for bombs and for propaganda. And as regards contraceptives, there is a paradoxical, negative sense in which all possible future generations are the patients or subjects of a power wielded by those already alive. By contraception simply, they are denied existence; by contraception used as a means of selective breeding, they are, without their concurring voice, made to be what one generation, for its own reasons, may choose to prefer. From this point of view, what we call Man's power over Nature turns out to be a power exercised by some men over other men with Nature as its instrument.
For the power of Man to make himself what he pleases means, as we have seen, the power of some men to make other men what they please. In all ages, no doubt, nurture and instruction have, in some sense, attempted to exercise this power. But the situation to which we must look forward will be novel in two respects. In the first place, the power will be enormously increased. Hitherto the plans of educationalists have achieved very little of what they attempted and indeed, when we read them—how Plato would have every infant "a bastard nursed in a bureau", and Elyot would have the boy see no men before the age of seven and, after that, no women, and how Locke wants children to have leaky shoes and no turn for poetry—we may well thank the beneficent obstinacy of real mothers, real nurses, and (above all) real children for preserving the human race in such sanity as it still possesses. But the man-moulders of the new age will be armed with the powers of an omnicompetent state and an irresistible scientific technique: we shall get at last a race of conditioners who really can cut out all posterity in what shape they please.