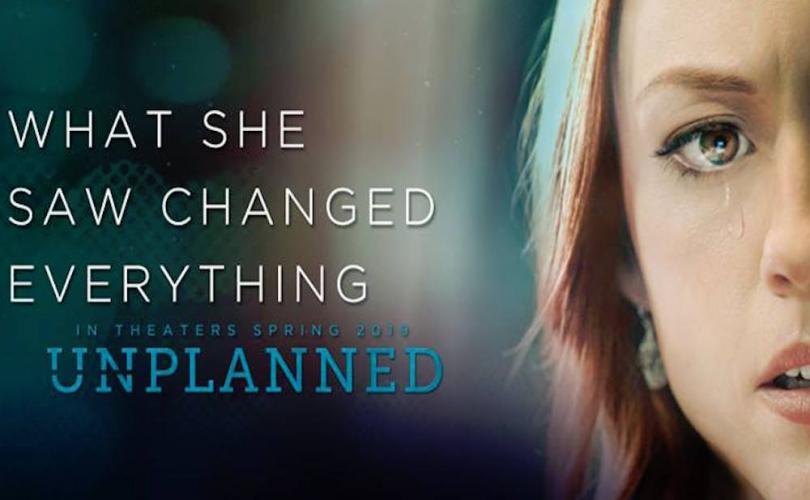 Unplanned
The Movie
About once a year or so we actually go out to a theater and watch a movie. I knew I wanted to see Unplanned, and did not have any confidence that it would eventually make it to Netflix. So Porter bought tickets online for our local AMC theater, and we made a date of it.
"Date" is an appropriate word, because despite the seriousness of the subject and a couple of horrifying scenes that probably earned it its "R" rating, Unplanned is basically a love story: The unconditional love of parents for a child who has made lifestyle choices in complete opposition to their own deeply-held values; the steadfast love of a man in support of his wife despite his conviction that her chosen career path is an immoral one; the love that leads us to embrace our common humanity in the face of chasmic differences; and the relentless love of God for his hurting world—"unresting, unhasting, and silent as light."
Abby Johnson's desire to make a difference in the world, to support the rights of women, and to help women in crisis situations led her, beginning as a student volunteer at the local Planned Parenthood clinic, to a promising career with that organization. She became one of the youngest-ever clinic directors, and won an Employee of the Year award in 2008.
And then that same heart-felt desire to help women led her to quit. Unplanned is her story.
The story is well told. The movie is beautiful—except of course where it's ugly. I particularly like the fact that it is not a black-and-white, one-dimensional story of a sudden conversion, despite the "what she saw changed everything" subtitle. As much as can be done in a movie less than two hours in length, we see Abby's growth through time and experience. Her change of heart seems more of a tipping point than a crisis, though there are certainly elements of the latter as well. Abby at the end of the movie is more knowledgeable, more experienced, certainly less naïve, and moving in a different direction in more than one area of her life—but still Abby.
The only fault I find is the portrayal of Abby's boss, who is indeed one-dimensional; we never see her human side. It reminds me of what C. S. Lewis said about George MacDonald, that he was rare among authors in being able to portray good much better than evil: "His saints live; his villains are stagey." It's certainly possible that this woman was as nasty as she seems, and as I said, it's a short movie, but I would like to have seen something redeeming about her character.
Do I recommend seeing Unplanned when you have the chance? Absolutely, 100%, a hundred times over. Do I recommend it for our grandchildren? Eventually. They're all under age for the rating at this point, anyway. Maybe the oldest one or two could handle it well, if their parents watch the film first and agree. Anyone younger than that would be traumatized, maybe scarred for life—if they understood it at all. At first I wondered about the R rating, given the horrible things I've seen in PG-13 movies, but I believe the MPAA got it right in this case. Unplanned is a beautiful movie, and an important one, but there's no denying that it's disturbing in a way no child should be asked to handle. Not that so many kids haven't already seen worse. And it's rather bizarre to require parental consent for a child watch a movie with a few abortion scenes, when that same child could actually have an abortion without it.