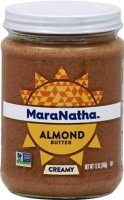 Almond butter. I should have asked this question before I bought it: Does anyone here use almond butter? Tell me about it.
I like almonds and really, really like marzipan. Almond paste is an ingredient I like to keep in pantry, even though it's not inexpensive. It's essential for making almond raisin bread, one of my favorites.
Thus the idea of almond butter intrigued me. I was envisioning something that looked like peanut butter but tasted like almond paste. Sort of like Biscoff (Speculoos), perhaps, but with a marzipan flavor. That would have been awesome.
I'd been put off by the price of almond butter, so when Publix offered this on a buy-one-get-one-free sale, I jumped at the chance. Now I'm stuck with two jars of something that tastes rather like bad peanut butter. Don't get me wrong; I like peanut butter. But when one is expecting almond, peanut doesn't cut it—especially not at an almond price.
The ingredients don't seem unreasonable: dry roasted almonds, organic evaporated cane sugar, palm oil, sea salt. I'm going to try it in some recopies to see if it tastes better than by the spoonful, but I'm not particularly hopeful.
My take? If you're allergic to peanuts (but not almonds), and really want a substitute for peanut butter, this would work well. Otherwise, forget it.
What's your experience? Did I get a bad jar? A bad brand? Or just make a bad assumption about what almond butter should taste like?