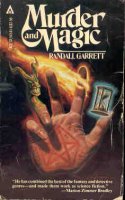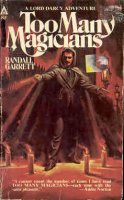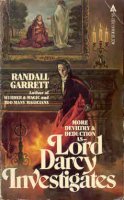 Murder and Magic, by Randall Garrett (Ace, 1979; written 1964-1973)
Too Many Magicians, by Randall Garrett (Ace, 1966)
Lord Darcy Investigates, by Randall Garrett (Ace, 1981; written 1974-1979)
A recent sermon brought to mind this line from Murder and Magic: "Black magic is a matter of symbolism and intent." I hasten to explain that Fr. Trey was not preaching about black magic; he only used the phrase, "form, intent, and matter," which set off my easily-distracted brain. He is not responsible for the fact that my mind is a junkyard of random snippets of stories and poems.
Be that as it may, it caused me to realize that it had been some time since I last read Randall Garrett's clever and enjoyable stories about Lord Darcy, a detective living in an alternate universe, in which King Richard I of England did not die from an arrow wound in 1199, but lived to found the mighty Anglo-French Empire, under a centuries-long Plantagenet dynasty still reigning in the 1970's.
In this world, the art of magic developed into a science, and what we call science was relegated to the hedgerows and backwaters. This topsy-turvy scenario serves Garrett very well as he weaves his murder mysteries and detective puzzles.
Too Many Magicians is a novel; the other two books are collections of shorter stories.
With a hat tip to my friend Dr. Gaunce Lewis, who introduced me to these delightful stories, I picked up Murder and Magic again, noting with shock that it had been more than a decade since I had read it. As with any good book revisited, I found something new in this reading. Garrett is known for his wordplay and allusions, some of which are detailed in the Lord Darcy Wikipedia article. However, the article misses what to me is a very obvious homage to Dorothy Sayers' novel The Nine Tailors, in Garrett's story, "The Muddle of the Woad." I love making connections like that! I say it is obvious, but somehow I missed it the countless previous times I read Murder and Magic. I guess it is like most puzzles—the solution is obvious once you see it.
Too Many Magicians successfully spins the protagonists' adventures to novel-length, with special delights for fans of Rex Stout's Nero Wolfe books. It repeats the "Black magic is a matter of symbolism and intent" line, which may help explain why that has stuck in my memory. My re-reading pleasure this time was enhanced by the following paragraph:
Physician, heal thyself, Master Sean throught wryly. The phrase was archaic only in that Healers no longer relied on "physick" to heal their patients. When the brilliant genius, St. Hilary Robert, worked out the laws of magic in the Fourteenth Century, the "leech" and the "physician" might have heard their death knell ringing from the bell tower of the little English monastery at Walsingham, where St. Hilary lived. Not everyone could use the laws; only those who had the Talent. But the ceremony of healing by the Laying On of Hands had, from that time on, become as reliable as it had been erratic before. (p. 22)
What makes this paragraph interesting is that it illustrates the Baader-Meinhof phenomenon. I'd never heard of the English village of Walsingham until our church's new rector came, less than two years ago—but ever since I've been encountering the town in unexpected places, including two separate detective fiction series. To be sure, both of those series are set in Britain; I will be shocked if I encounter Walsingham in the Leaphorn & Chee books.
Lord Darcy Investigates takes us back to the short story format, and is just as much fun as the others. Here's my favorite quote from that book:
"Like all great detectives, my lord, you have the ability to leap from an unjustified assumption to a foregone conclusion without passing through the distance between. Then you back up and fill in."
I see no reason not to recommend these books as SFGC (safe for grandchildren), but skip reading about the author himself if you want to continue to give him the respect these books deserve. Learning more about the real lives of one's heroes is often a strong cure for the sin of idolatry.