Christ is risen!
---
I write this before heading out to church to worship, sing, and play with our hand chime choir. The sad news is the expected: Far fewer Holy Week services than usual, severely restricted congregational size for Easter, masks and unsocial distancing required, singing much reduced, and no choir on what is usually the most glorious day of the year. The good news: At least we're having services; last year at this time we were completely shut down. And if we have no choir, at least we will have guest musicians and our little hand chime choir ringing our hearts out. Plus many other choir members singing joyfully from the congregation, which may, perhaps, encourage more congregational singing than otherwise.
I am not unaware of the phenomenon that if you take away people's freedom for long enough, you can make them thank you when you allow them to have a small measure of it back, and that we are very much in that situation. Even so, it is far better to be grateful than not, though I'll reserve my gratitude for God, not the government and not the bishop (who has imposed stricter restrictions than the state).
After the service, I'll be scurrying around our kitchen, getting ready for our dinner guest. This is the same friend who joined us for Thanksgiving, only this time we will not "socially distance" our table. All three of us are well into our vaccination grace periods and intend to take advantage of it when we can reasonably do so, no matter what the more overly-cautious authorities may recommend. We're not going to be stupid about it—we have important events coming up and there are more germs than COVID out there that can bring one down. But "too much" does more harm than "enough."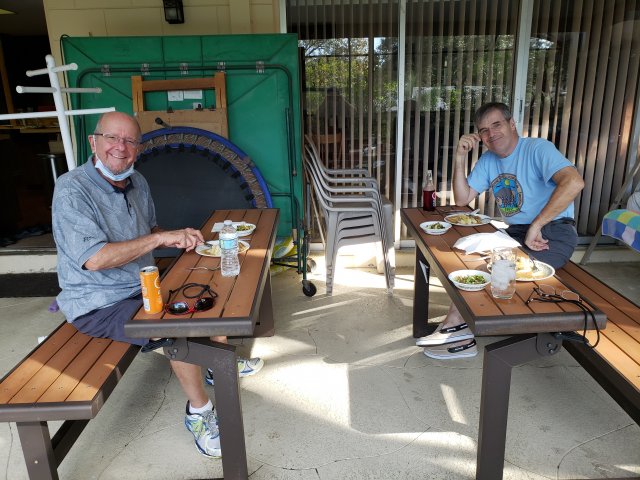 We tend to be traditionally untraditional. I grew up having ham for Easter dinner, and loved it. However, Porter doesn't care much for ham, and in any case, a normal Holy Week and Easter leave me far too exhausted to think about cooking a meal, much less having guests. Recently, someone from the choir (we miss you, Peggy!) would organize a restaurant brunch. Needless to say, that's not happening this year. But with our severely restricted schedule, I'm willing to cook. But it won't look like Easter. For Thanksgiving we did not have turkey, rather a pork roast. The turkey in the freezer was reserved for a December "Thanksgiving" with family (about which, I realize, I have yet to write). The family get-together happened, but we were too busy with other things to make the belated Thanksgiving part of it. So guess what was still in the freezer and will make our Easter feast, complete with stuffing, mashed potatoes, gravy, sweet potatoes, and cranberry sauce?
UPDATE: Today's dinner, with the table together.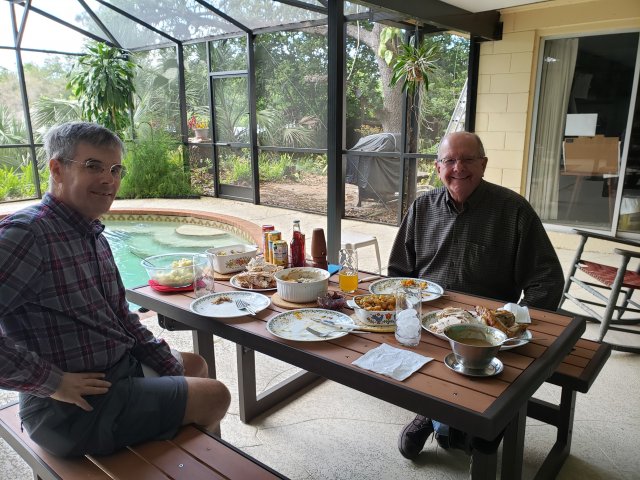 ---
On a different note, meet St. Margaret of Scotland (click to enlarge).
Saint Margaret is my 28th great-grandmother (Porter's 26th), and I've written about her before. This "Tiny Saint" was a Good Friday gift from a very thoughtful friend whom I met in person for the first time at our church service. She is actually our cousin, albeit a tad distant: we all have Saint Margaret of Scotland as a common ancestor. The "Tiny Saint" was officially blessed by a priest, and now has pride-of-place in my office, watching above my computer and under photos of our grandchildren.
Our children, who each have what is considered today to be an unusually large number of offspring, may be glad to know that, according to the write-up on the back, their 27th great-grandmother is considered a patron saint of large families. She herself had eight children.
---
May you all have a very happy and blessed Easter!