Part 1 is here. Now for more of our adventures during our December attempt at choosing joy and life amidst a pandemic-inspired focus on fear and death.
The eight of us did most of our venturing-outside-the-home together (being blessed with a car that seats that exact number), but occasionally we split up, as when two of us spent a day at EPCOT and the rest of us sought our entertainment at a classic American mini-golf course. Both groups had great fun. Credit goes to Disney for keeping their parks open and at the same time uncrowded so that the experience felt safe as well as fun. Remember that back then we knew much less about outdoor transmission (or lack thereof) of the virus, and people were nearly as scared outdoors as inside. The golf course was similarly comfortable.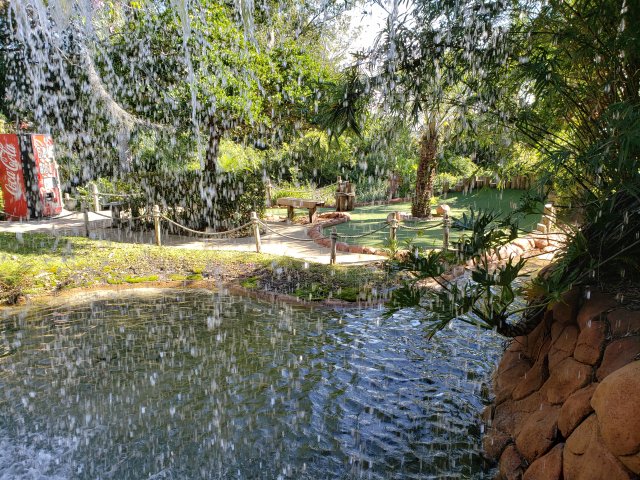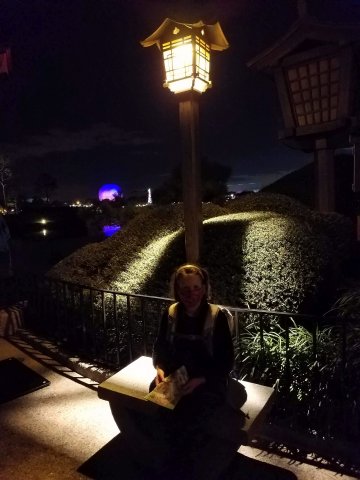 Left: Congo River Golf; Right: EPCOT at night. Click to enlarge.
We also separated to give Janet and Stephan a chance to celebrate their anniversary on their own. They chose a hotel on Daytona Beach, and we joined them the next day for the chance to swim in the Atlantic Ocean on the first day of winter. Porter and I declined the swim, as it was 66 degrees, cloudy, and windy. That didn't stop the hardy Swiss, however! I didn't realize until we arrived that they had chosen a hotel on the same section of beach where I spent so many happy hours as a child—a five-minute walk from my grandparents' house. The coquina-built bandshell is much the same, and so is the ocean, but almost nothing else.
Closer to home, we visited the Orange County History Center, which thoughtfully made it possible to see the good stuff while avoiding the decidedly-child-inappropriate special exhibit of history's darker side. We picked out and decorated our Christmas tree, made cookies, and generally prepared for the holiday, which is not surprisingly much more fun with children around. We visited playgrounds, worked on various projects at home, swam some more, and sang and played music together.
Only twice in our entire month together did I feel the least bit uncomfortable with regard to COVID-19. The worst was at our local pizza party arcade, since we arrived at a time when a large party of people without masks crowded the place. Fortunately it was easy to return later.
The second time was at Sea World. I mean no particular criticism of the park, which clearly took precautions very seriously: taking temperatures, requiring masks, keeping even the outdoor stadiums at low, well-distanced capacity. But overall the park was more crowded than allowed for comfortable distancing, unlike our experience at EPCOT. However, this was on December 23, one of the busiest days of the year, one we'd normally have avoided like the plague. (Perhaps that analogy isn't the best one to use at this time.) The experience was overall delightful and certainly much more pleasant than it would have been in a normal year.
More to come.