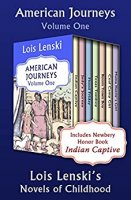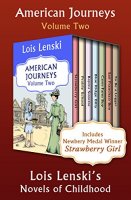 American Journeys Volume 1 by Lois Lenski (includes Indian Captive, Judy's Journey, Flood Friday, Texas Tomboy, Boom Town Boy, Coal Camp Girl, and Mama Hattie's Girl)
American Journeys Volume 2 by Lois Lenski (includes Strawberry Girl, Prairie School, Bayou Suzette, Blue Ridge Billy, Corn-Farm Boy, San Francisco Boy, and To Be a Logger)
Lois Lenski's children's books are a true treasure that all too few children—and parents and teachers—have discovered. I loved Indian Captive as a child, but didn't discover Strawberry Girl until I was an adult. Ocean-Born Mary came later still. Lenski's other books should not be so hard to find in our libraries! I discovered the fourteen above thanks to a sale on the Kindle versions of these collections, and what a treat they are! There are four other books in Lenski's American Regional series: Houseboat Girl (also available on Kindle), Cotton in My Sack, Deer Valley Girl, and Shoo-Fly Girl. Sadly, the last three are not available on Kindle.
These books are a much-needed antidote to what I call a chronological snobbery approach to teaching history. The term "chronological snobbery" isn't mine; I learned it from C. S. Lewis. All too often we look at the people and events of the past through ignorant, prideful eyes, as we are very good at seeing the areas in which we consider ourselves to be superior to our forebears, and very bad at even considering that there might be areas in which our forebears would justifiably consider us vastly inferior to themselves.
Lenski's books do an excellent job of avoiding that, for at least two reasons: they were largely written contemporaneously with the events they describe, and Lenski's research was meticulous and personal. She made a point of living in the situations she wrote about, getting to know the families, the work, and especially the children. For books where that was impossible, like Indian Captive and Ocean-Born Mary, she substituted thorough research and a heart sympathetic to all cultures.
Modern Americans may well be shocked by some of the situations in these books, but it is good for us to realize that our ways aren't the only ways that make for happy families and a healthy upbringing. Not to mention that other cultures may have done some things better than us. Nearly all the children in these books, for example, have many more responsibilities and at the same time much more freedom at younger ages than most modern parents can imagine.
The inspiration to write a review at this particular time? Amazon Kindle is currently (9/25/21) offering the second volume of these books for $3.99. Volume 1 is $31.99, so don't even think of buying it at that price. In my experience, with patience you will see it for $3.99 as well, and the individual books at $1.99. I highly recommend using (and supporting) a service called eReaderIQ, which will alert you when books or authors you are interested in go on sale.