I was pleased to see the following display at our local Publix. It's certainly a healthier alternative to the cookies that are usually offered to children at grocery stores.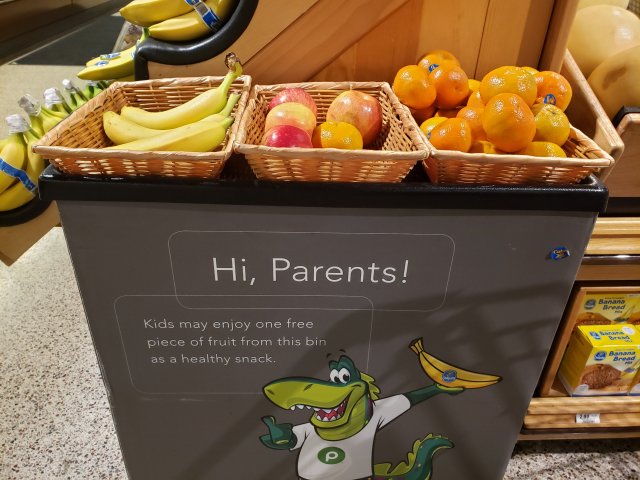 Then I thought a bit about it. It may be a healthier treat, but there's one thing missing: it's just a bin of fruit; there is no human interaction.
Years ago, when our kids went to the bakery to receive their much-anticipated free cookies, it was a social event. The interaction with the "cookie lady"—the smiles, the brief exchange of words, the opportunity to practice basic courtesies such as saying "thank you"—was a small but significant part of their social education. Reaching into a bin is impersonal.
Something is gained, but something is lost.
Many years ago our Swiss relatives marvelled at how much of American society is not automated. Switzerland automates where it can—in paying tolls and parking fees, for example—because labor costs are so high there. It is good to have work in Switzerland, because jobs pay well and workers are respected. But of course in consequence there are fewer jobs and they require higher levels of training.
Like it or not, the move toward automation is accelerating in America, spurred on by our response to the pandemic and the consequent labor shortage. This is not necessarily a bad thing, but there's no doubt that whenever we make a purchase online, choose a self-checkout line at the grocery store, take a course online instead of in person, listen to a sermon or watch a service online instead of attending a local church, or watch a movie at home instead of in a theater, we are giving up an opportunity for meaningful interaction with others.
I'm a cast-iron introvert, and my first reaction is, "So what?" The less personal option is usually more efficient, more convenient, and avoids the risk of having to deal with rude sales clerks and cranky classmates. Automation and online opportunities open up a huge world of information, possibilities, and choice.
The danger is that they can close off another world: the messy world of having to control our nastier impulses and deal with the personalities, cultures, viewpoints, and yes, nastier impulses of other people; the beautiful world of personal encounters that force us to see the humanity of those whom we might be tempted to hate if our encounter were in an online political forum instead of a line at Home Depot.