I thought I'd already published my New Year's Eve post, but this heartbreaking news from Quebec demands publicity. For those who don't want to watch the 11-minute video, I've put a short summary afterwards.
Quebec has been iron-fisted from the beginning in its reaction to COVID-19, with tight lockdowns, cancellations, closures, severe restrictions on gatherings in private homes, travel bans, strong vaccine-passport requirements, and even a harsh, five-month curfew.
After much suffering on the part of the Quebec citizenry, the curfew was lifted and the choke-hold on the province's economy and family life began to ease, just a little. Enough for people and businesses to start making plans again.
Until yesterday.
That's when the provincial government announced new extrememe measures in the light of Omicron, the newest COVID variant. These include
reinstated curfew
take-out only for restaurants
no private gatherings in your own home
in-person school shut down at least until mid-January
And when do these measures take effect? At 5 p.m. today.
Today. New Year's Eve.
Now, I'm not one to go crazy on New Year's Eve. This image I found on Facebook sums it up pretty well for us these days.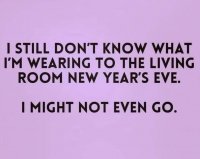 But I realize that for many people the New Year's Eve festivities are important. They make plans, they travel, they spend lots of money on clothes and event tickets and parties and food and special restaurant meals. Restaurants, event venues, musicians, caterers and loads of other businesses count on this time to keep them financially afloat.
The decree comes out with one day's notice, and is clearly calculated to pull the rug right out from all New Year's Eve festivities. Plans are already made, tickets purchased, food bought, extra help hired ... then nothing. And all in fear of a COVID variant that has been producing high numbers but is almost always a mild illness with very low hospitalization and death rates.
This is not just tyrannical. It is sadistic.
I wouldn't go so far as to call it Fascist. But it is certainly Faucist.*
We cannot continue to ignore the economic, social, and mental health consequences of these extreme measures.
(Sorry this post is so depressing. My first post of the new year will be more delightful and uplifting.)
---
*Porter gets credit for this term, but I've latched onto it enthusiastically.