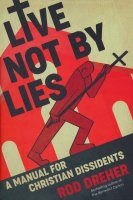 Live Not by Lies: A Manual for Christian Dissidents by Rod Dreher (Sentinel, September 2020)
My previous book having been Brandon Sanderson's Oathbringer, this book's 256 pages might have made it seem like a beach read.
Not by a long shot.
I was struck by how much Live Not by Lies reminded me of The Fall of Heaven, although they are two very different books with very different subjects. The latter details Iran at the time of the 1978 revolution, while this book is largely based on stories from the survivors of Communism in Russia and Eastern Europe. What do they have in common? The warning that it CAN happen here. America is not so far off from totalitarianism as we naïvely think.
There always is this fallacious belief: "It would not be the same here; here such things are impossible." Alas, all the evil of the twentieth century is possible everywhere on earth. — Aleksandr Solzhenitsyn, The Gulag Archipelago
This was certainly the fallacy I believed in.
When I was a child, Nazi Germany was a very near memory for my parents, and the horrors of Communism an ever-present reality. But I knew for certain that it couldn't happen here and it couldn't happen now, because America was free and the democracies had grown beyond all that totalitarian stuff. True, I was forced in school to read 1984 and Brave New World, but such situations were as alien to me as the farthest galaxies. Ah, the optimism of youth.
Did I say youth? If you'd asked me five years ago I would have pretty much felt the same way. But the last few years have shown just how quickly radical change can happen.
Enter Live Not by Lies. Dreher was inspired by the stories and concerns of those who escaped totalitarian societies (largely from Eastern Europe and the former Soviet Union) only to see frighteningly similar patterns in present-day America. He is careful to distinguish what he calls "hard totalitarianism" with its secret police, gulags, and material deprivation, and the sneaky, but effective, "soft totalitarianism" that threatens us today. He comes down very hard on the Left, but neither does he spare the Right. Evil is most effective when it uses both halves of the nutcracker.
As indicated in the title, Live Not by Lies is written for Christians. But it would be a great mistake for others to pass it up for that reason. The most effective resistance to the hard totalitarianism of Nazism and Communism came from diverse coalitions of dissidents, and that's just as important now. These are dangers that affect us all.
It's not a totally satisfying book, the second half being less powerful than the first—at least if I judge by the relative number of passages I highlighted. I could include a great number of quotations in this review, but I'm not going to. Live Not by Lies is only $4.99 in Kindle form. Give up one fast food meal and get a book that just might open your eyes and strengthen your spine.
The following, rather long, excerpt from the introduction explains well the form and scope of the book.
Part one of this book makes the case that despite its superficial permissiveness, liberal democracy is degenerating into something resembling the totalitarianism over which it triumphed in the Cold War. It explores the sources of totalitarianism, revealing the troubling parallels between contemporary society and the ones that gave birth to twentieth-century totalitarianism. It will also examine two particular factors that define the rising soft totalitarianism: the ideology of "social justice," which dominates academia and other major institutions, and surveillance technology, which has become ubiquitous not from government decree but through the persuasiveness of consumer capitalism. This section ends with a look at the key role intellectuals played in the Bolshevik Revolution and why we cannot afford to laugh off the ideological excesses of our own politically correct intelligentsia.

Part two examines in greater detail forms, methods, and sources of resistance to soft totalitarianism's lies. Why is religion and the hope it gives at the core of effective resistance? What does the willingness to suffer have to do with living in truth? Why is the family the most important cell of opposition? How does faithful fellowship provide resilience in the face of persecution? How can we learn to recognize totalitarianism's false messaging and fight its deceit?

How did these oppressed believers get through it? How did they protect themselves and their families? How did they keep their faith, their integrity, even their sanity? Why are they so anxious about the West's future? Are we capable of hearing them, or will we continue to rest easy in the delusion that it can't happen here?

A Soviet-born émigré who teaches in a university deep in the US heartland stresses the urgency of Americans taking people like her seriously. "You will not be able to predict what will be held against you tomorrow," she warns. "You have no idea what completely normal thing you do today, or say today, will be used against you to destroy you. This is what people in the Soviet Union saw. We know how this works."

On the other hand, my Czech émigré friend advised me not to waste time writing this book. "People will have to live through it first to understand," he says cynically. "Any time I try to explain current events and their meaning to my friends or acquaintances, I am met with blank stares or downright nonsense."

Maybe he is right. But for the sake of his children and mine, I wrote this book to prove him wrong. (pp. xiv-xvi)
I'll let Aleksandr Solzhenitsyn have the last word.
After the publication of his Gulag Archipelago exposed the rottenness of Soviet totalitarianism and made Solzhenitsyn a global hero, Moscow finally expelled him to the West. On the eve of his forced exile, Solzhenitsyn published a final message to the Russian people, titled "Live Not by Lies!" In the essay, Solzhenitsyn challenged the claim that the totalitarian system was so powerful that the ordinary man and woman cannot change it. Nonsense, he said. The foundation of totalitarianism is an ideology made of lies. The system depends for its existence on a people's fear of challenging the lies. Said the writer, "Our way must be: Never knowingly support lies!" You may not have the strength to stand up in public and say what you really believe, but you can at least refuse to affirm what you do not believe. You may not be able to overthrow totalitarianism, but you can find within yourself and your community the means to live in the dignity of truth. If we must live under the dictatorship of lies, the writer said, then our response must be: "Let their rule hold not through me!" (pp. xii-xiv)