I read and reviewed The Fall of Heaven in 2017, having no clue at the time how much closer America would come to this perilous situation in just three years. It's time to revisit that review.
Please read this book. It was recommended to me by two Iranian friends who suffered through, and escaped from, the Iranian Revolution. Thus I give it much higher credence than I would a random book off the library shelves. If they say the reporting accords with their own experiences, I believe them. They are highly intelligent and well-educated people.
I cannot overstate how important I think this book to be for here and now in America. Who our Ruhollah Khomeini might be I do not know, but I look at the news and am convinced that the stage set is a close copy of that in Iran 40 years ago, and the script is frighteningly similar.
Those who are fighting for change at any cost need to consider just how high that cost might be.
---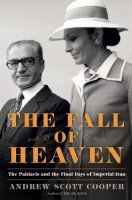 The Fall of Heaven: The Pahlavis and the Final Days of Imperial Iran by Andrew Scott Cooper (Henry Holt, 2016)
People were excited at the prospect of "change."
That was the cry, "We want change."
You are living in a country that is one of the wealthiest and most powerful in the world. You enjoy freedom, education, and health care that was beyond the imagination of the generation before you, and the envy of most of the world. But all is not well. There is a large gap between the rich and the poor, and a widening psychological gulf between rural workers and urban elites. A growing number of people begin to look past the glitter and glitz of the cities and see the strip clubs, the indecent, avant-garde theatrical performances, offensive behavior in the streets, and the disintegration of family and tradition. Stories of greed and corruption at the highest corporate and governmental levels have shaken faith in the country's bedrock institutions. Rumors—with some truth—of police brutality stoke the fears of the population, and merciless criminals freely exploit attempts to restrain police action. The country is awash in information that is outdated, inaccurate, and being manipulated for wrongful ends; the misinformation is nowhere so egregious as at the upper levels of government, where leaders believe what they want to hear, and dismiss the few voices of truth as too negative. Random violence and senseless destruction are on the rise, along with incivility and intolerance. Extremists from both the Left and the Right profit from, and provoke, this disorder, knowing that a frightened and angry populace is easily manipulated. Foreign governments and terrorist organizations publish inflammatory information, fund angry demonstrations, foment riots, and train and arm revolutionaries. The general population hurtles to the point of believing the situation so bad that the country must change—without much consideration for what that change may turn out to bring.
It's 1978. You are in Iran.
I haven't felt so strongly about a book since Hold On to Your Kids. Read. This. Book. Not because it is a page-turning account of the Iranian Revolution of 1978/79, which it is, but because there is so much there that reminds me of America, today. Not that I can draw any neat conclusions about how to apply this information: the complexities of what happened to turn our second-best friend in the Middle East into one of our worst enemies have no easy unravelling. But time has a way of at least making the events clearer, and for that alone The Fall of Heaven is worth reading.
On the other hand, most people don't have the time and the energy to read a densely-packed, 500-page history book. If you're a parent, or a grandparent, or work with children, I say your time would be better spent reading Hold On to Your Kids. But if you can get your hands on a copy of this book, I strongly recommend reading the first few pages: the People, the Events, and the Introduction. That's only 25 pages. By then, you may be hooked, as I was; if not you will at least have been given a good overview of what is fleshed out in the remainder of the book.
A few brief take-aways:
The road to hell is paved with good intentions. Jimmy Carter is undoubtedly an amazing, wonderful person; as my husband is fond of saying, the best ex-president we've ever had. But in the very moments he was winning his Nobel Peace Prize by brokering the Egypt-Israel Peace Treaty at Camp David, he—or his administration—was consigning Iran to the hell that endures today. Thanks to a complete failure of American (and British) Intelligence and a massive disinformation campaign with just enough truth to keep it from being dismissed out of hand, President Carter was led to believe that the Shah of Iran was a monster; America's ambassador to the United Nations, Andrew Young, likened the Shah to Adolf Eichmann, and called Ruhollah Khomeini a saint. Perhaps the Iranian Revolution and its concomitant bloodbath would have happened without American incompetence, disingenuousness, and backstabbing, but that there is much innocent blood on the hands of our kindly, Peace Prize-winning President, I have no doubt.
There's a reason spycraft is called intelligence. Lack of good information leads to stupid decisions.
Bad advisers will bring down a good leader, be he President or Shah, and good advisers can't save him if he won't listen.
The Bible is 100% correct when it likens people to sheep. Whether by politicians, agitators, con men, charismatic religious leaders (note: small "c"), pop stars, advertisers, or our own peers, we are pathetically easy to manipulate.
When the Shah imposed Western Culture on his people, it came with Western decadence and Hollywood immorality thrown in. Even salt-of-the-earth, ordinary people can only take so much of having their lives, their values, and their family integrity threatened. "It does not do to leave a live dragon out of your calculations."
The Shah's education programs sent students by droves to Europe and the United States for university educations. This was an unprecedented opportunity, but the timing could have been better. The 1960's and 70's were not sane years on college campuses, as I can personally testify. Instead of being grateful for their educations, the students came home radicalized against their government. In this case, "the Man," the enemy, was the Shah and all that he stood for. Anxious to identify with the masses and their deprivations, these sons and daughters of privilege exchanged one set of drag for another, donning austere Muslim garb as a way of distancing themselves from everything their parents held dear. Few had ever opened a Quran, and fewer still had an in-depth knowledge of Shia theology, but in their rebellious naïveté they rushed to embrace the latest opiate.
"Suicide bomber" was not a household word 40 years ago, but the concept was there. "If you give the order we are prepared to attach bombs to ourselves and throw ourselves at the Shah's car to blow him up," one local merchant told the Ayatollah.
People with greatly differing viewpoints can find much in The Fall of Heaven to support their own ideas and fears. Those who see sinister influences behind the senseless, deliberate destruction during natural disasters and protest demonstrations will find justification for their suspicions in the brutal, calculated provocations perpetrated by Iran's revolutionaries. Others will find striking parallels between the rise of Radical Islam in Iran and the rise of Donald Trump in the United States. Those who have no use for deeply-held religious beliefs will find confirmation of their own belief that the only acceptable religions are those that their followers don't take too seriously. Some will look at the Iranian Revolution and see a prime example of how conciliation and compromise with evil will only end in disaster.
I've read the Qur'an and know more about Islam than many Americans (credit not my knowledge but general American ignorance), but in this book I discovered something that surprised me. Two practices that I assumed marked every serious Muslim are five-times-a-day prayer, and fasting during Ramadan. Yet the Shah, an obviously devout man who "ruled in the fear of God" and always carried a Qur'an with him, did neither. Is this a legitimate and common variation, or the Muslim equivalent of the Christian who displays a Bible prominently on his coffee table but rarely cracks it open and prefers to sleep in on Sundays? Clearly, I have more to learn.
Many of Iran's problems in the years before the Revolution seem remarkably similar to those of someone who wins a million dollar lottery. Government largess fueled by massive oil revenues thrust people suddenly into a new and unfamiliar world of wealth, in the end leaving them, not grateful, but resentful when falling oil prices dried up the flow of money.
I totally understand why one country would want to influence another country that it views as strategically important; that may even be considered its duty to its own citizens. But for goodness' sake, if you're going to interfere, wait until you have a good knowledge of the country, its history, its customs, and its people. Our ignorance of Iran in general and the political and social situation in particular was appalling. We bought the carefully-orchestrated public façade of Khomeini hook, line, and sinker; an English translation of his inflammatory writings and blueprint for the establishment of an Islamic republic in Iran came nine years too late, after it was all over. In our ignorance we conferred political legitimacy on the radical Khomeini while ignoring the true leaders of the majority of Iran's Shiite Muslims. The American ambassador and his counterpart from the United Kingdom, on whom the Shah relied heavily in the last days, confidently gave him ignorant and disastrous advice. Not to mention that it was our manipulation of the oil market (with the aid of Saudi Arabia) that brought on the fall in oil prices that precipitated Iran's economic crisis.
The bumbling actions of the United States, however, look positively beatific compared with the works of men like Muammar Gaddafi of Libya, and Yasser Arafat and his Palestine Liberation Organization, who funded, trained, and armed the revolutionaries.
I threw out the multitude of sticky notes with which I marked up the book in favor of one long quotation from the introduction. It matters to me because I heard and absorbed the accusations against the Shah, and even thought Khomeini was acting out of a legitimate complaint with regard to the immorality of some aspects of American culture. Not that I paid much attention to world events at the time of the Revolution, being more concerned with my job, our first house, a visit to my in-laws in Brazil, and the birth of our first child. But I was deceived by the fake news, and I'm glad to have a clearer picture at last.
The controversy and confusion that surrounded the Shah's human rights record overshadowed his many real accomplishments in the fields of women's rights, literacy, health care, education, and modernization. Help in sifting through the accusations and allegations came from a most unexpected quarter, however, when the Islamic Republic announced plans to identify and memorialize each victim of Pahlavi "oppression." But lead researcher Emad al-Din Baghi, a former seminary student, was shocked to discover that the could not match the victims' names to the official numbers: instead of 100,000 deaths Baghi could confirm only 3,164. Even that number was inflated because it included all 2,781 fatalities from the 1978-1979 revolution. The actual death toll was lowered to 383, of whom 197 were guerrilla fighters and terrorists killed in skirmishes with the security forces. That meant 183 political prisoners and dissidents were executed, committed suicide in detention, or died under torture. [No, I can't make those numbers add up right either, but it's close enough.] The number of political prisoners was also sharply reduced, from 100,000 to about 3,200. Baghi's revised numbers were troublesome for another reason: they matched the estimates already provided by the Shah to the International Committee of the Red Cross before the revolution. "The problem here was not only the realization that the Pahlavi state might have been telling the truth but the fact that the Islamic Republic had justified many of its excesses on the popular sacrifices already made," observed historian Ali Ansari. ... Baghi's report exposed Khomeini's hypocrisy and threatened to undermine the vey moral basis of the revolution. Similarly, the corruption charges against the Pahlavis collapsed when the Shah's fortune was revealed to be well under $100 million at the time of his departure [instead of the rumored $25-$50 billion], hardly insignificant but modest by the standards of other royal families and remarkably low by the estimates that appeared in the Western press.

Baghi's research was suppressed inside Iran but opened up new vistas of study for scholars elsewhere. As a former researcher at Human Rights Watch, the U.S. organization that monitors human rights around the world, I was curious to learn how the higher numbers became common currency in the first place. I interviewed Iranian revolutionaries and foreign correspondents whose reporting had helped cement the popular image of the Shah as a blood-soaked tyrant. I visited the Center for Documentation on the Revolution in Tehran, the state organization that compiles information on human rights during the Pahlavi era, and was assured by current and former staff that Baghi's reduced numbers were indeed credible. If anything, my own research suggested that Baghi's estimates might still be too high. For example, during the revolution the Shah was blamed for a cinema fire that killed 430 people in the southern city of Abadan; we now know that this heinous crime was carried out by a pro-Khomeini terror cell. Dozens of government officials and soldiers had been killed during the revolution, but their deaths were also attributed to the Shah and not to Khomeini. The lower numbers do not excuse or diminish the suffering of political prisoners jailed or tortured in Iran in the 1970s. They do, however, show the extent to which the historical record was manipulated by Khomeini and his partisans to criminalize the Shah and justify their own excesses and abuses.