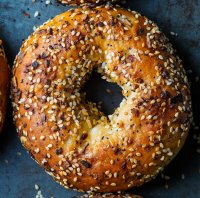 Being a household of two, we can't keep bread goods out on the counter as we once did; all too often they spoil before we can finish them. Thus, when I bring them home from the grocery store, they often go directly into the freezer, to be thawed as needed.
That's a mistake, I've discovered. The directly part, I mean. Perhaps you've known this trick all along, but if it's new to me, it's undoubtedly new to someone else, so worth publishing.
Now when I come home with bagels, or English muffins, or anything else I might want to use by parts, I divide them before putting them in the freezer. It's only a matter of seconds to cut a bagel in half, but what a difference it makes when I want to have one for breakfast, if it comes from the freezer pre-sliced. I can take just a half if I want (when did bagels get so big, anyway?), or pop two halves directly into the toaster instead of waiting for them to thaw enough to be sliced. Even bagels that come (mosty) presliced in the package can benefit from this treatment, as I find they're inclined to stick together too much without it.
This is a great convenience, and if there's a down side I haven't yet encountered it. Perhaps the additional exposed surface is more prone to drying out, but I've not yet had the problem.