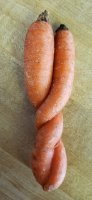 Who says vegetables have no feelings? That's a hug if I ever saw one.
I thought "caduceus," but Siamese twins is another possiblity. All body parts were intact; unfortunately, I was unable to separate them without damage.
Heartless omnivore that I am, after my unsuccessful surgery, I ate them.
They were delicious.