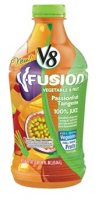 This actually seemed like a good idea at the grocery store.
V-Fusion, by the same folks who brought you, "I could have had a V-8."
I should have had something else.
It's a good idea. I love passionfruit juice (at least when I can get it without sugar, as we did in Brazil), and I love tangerine juice. It's 100% juice, and not just fruit juices: there's enough carrot and sweet potato juice in there to allow them to claim that an eight-ounce glass provides a full serving of vegetables as well as a full serving of fruits. Should be good, and good for you.
But oh my, how sweet it is. Sickeningly sweet. Not even the passionfruit and tangerine flavors could redeem the taste. There's no "sugar" added, but sweet juices (apple and grape) in abundance.
It's just as well. At $4.99/bottle it cost too much anyway. And that's not sour grapes, though sour grapes would improve the juice.